Butler Bible
This Bible record was separated from the Bible. It was
accompanied by two other Bible records (Bradbury and
Bradbury) from the married-in Bradbury family. Ella Butler,
a child in this Bible, married James Otis Bradbury, a child
in the other Bibles.
The pages look to date around the early to middle 19th century.
This family is found in Berwick and Sanford, York County, Maine.
Transcribed by and in possession of Tracy St. Claire.

SURNAMES:
BUTLER
HURD
MOTT
SMITH
MERRILL
LYDSTON
FERNALD
BRADBURY
---------------START TRANSCRIPT-------------------------
[Page One -- Marriages]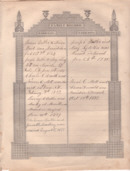 James Butler and Susan Hurd were Married in Sanford Oct
7th 1824
Joseph Butler & Mary Almy Mott were Married in Gt. Falls
N.H. June 10th 1854
Charles C. Smith and Naomi C. Mott were married in Dover
N.H. February 7th 1857.
Irving A. Butler and Marthy A. Merrill were Married in
Sanford June 27th 1859
Ella Susan Butler and James Otis Bradbury were married
August 5, 1877
Joseph Butler and Mary Lydston were Married in Berwick
Jan 28th 1795
Benj C. Mott and Susan Fernald were Married in Berwick
Oct 18th 1832

[Page Two -- Births]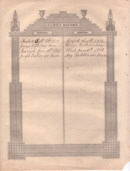 Sanford Sept 5th 1801 James Butler was Born
Berwick Jan 16th 1761 Joseph Butler was Borne
Sanford Aug 4th 1804 Susan Hurd was Born
Elliot June 16th 1762 Mary Lydston was Born

[Page Three -- Births]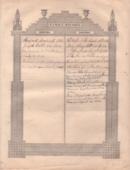 Sanford March 24th 1826 Joseph Butler was Born
Benjamin C. Mott born July 4, 1803
Susan, wife of Benjamin C. Mott born Dec. 5, 1808
Gt. Fall N.H. March 19th 1836 Mary Almy Mott was Born
Sanford May 9th 1855 Ella Susan Butler was Born
Sanford Sept 17th 1857 Arthur J. Butler was
James Otis Bradbury was born at Limington Maine July 19, 1850
Mary Alma Bradbury was born at Limington Maine September 26 1882.
Eva Elizabeth Bradbury was born at Hartland Maine April 12, 1886

[Page Four -- Deaths]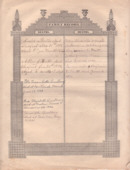 Joseph Butler died Sanford Nov 11th 1859
aged 33 yrs 7 months 17 days
Arthur J. Butler died Sanford Jan 20th 1858
aged 4 months 3 days
Ella Susan Butler Bradbury died at Hartland, Maine June 28, 1889
Eva Elizabeth Bradbury died at Norton, Mass. December 24, 1906.
James Otis Bradbury died at Saco, Me., May 31, 1921.
Mary Alma, wife of Joseph Butler died October 18, 1878.
Benjamin C. Mott, father of Mary Alma died Sept. 14, 1840.
Susan, wife of Benjamin C. Mott died June 4, 1871.