Wright Bible
This page was acquired individually, without any other
items to add evidence. Family Records like these were
copied out of Bibles and carried like birth certificates
to prove age and such, often for pension and other
government applications. This might have been submitted
for a Revolutionary War pension, as it fits for those
dates.
It looks like it was all written at the same time, after 1828
which is the last date. My opinion.

Rootsweb gedcoms place this family in Massachusetts.
Transcribed by and in the possession of Tracy St. Claire,
tracy@stclaire.org.
SURNAMES:
WRIGHT
PHELPS
PARSONS
------------------START TRANSCRIPT------------------------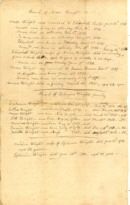 Record of Moses Wright's Family
Moses Wright was married to Elizabeth Phelps June 11th 1781
Moses was born on saturday Nov. 16th 1782
Moses died on saturday Feb. 1st 1783
Thomas was born on saturday May 1st 1784
Elizabeth was born on tuesday April 4th 1786
Moses 2d was born on saturday Feb. 23d 1788
Elizabeth Wright, wife of Moses Wright died on monday May 26th 1788
four o clock A.M., aged 34 years 9 months & 22 days
Moses died on monday June 9th 1788
Moses Wright was married to Eunice Parsons Feb. 5th 1789
A daughter was born Jan. 11th 1790
Eunice was born on Wednesday May 2nd 1792
Moses Wright died on friday March 24 1820 aged 68 years
_______________________[line on page]
Record of Ephraim Wrights family
Ephraim Wright Jun was born Dec 21t 1747. Died 31 March 1814 AE 67
Esther Wright was born Dec. 19, 1749 ~ died Nov. 26, 1825 AE 76
Moses Wright was born Nov. 19. 1751. ~ died March 24th 1820 - 68 -
Seth Wright was born Aug. 24. 1754 ~ died Dec. 20th 1828 -74 -
Miriam Wright was born May 12th 1757 ~ died -
Eunice Wright was born July 11 1759 ~ died Dec. 22d 1801 -42 -
Tabitha Wright - was Aug. 1762 died Aug Sept. 5th 1825 - 63 -
_______________________[line on page]
Miriam Wright, wife of Ephraim Wright died Jan 2d - 1774
aged 52 years
Ephraim Wright died Jan 25th 1794 aged 81 years -
------------------------END TRANSCRIPT-------------------------