Willmarth Bible
This family record was found with many notes, obituaries and
another Bible record on the Wilmarth family.
It is currently in the possession of Tracy St. Claire and was
transcribed by Tara Hawkins.
These Bible pages are not with the Bible, so they cannot be
identified as to publication date. However, these pages are very
distinct, and the engravings are consistent with Bibles published
in Brattleborough Vermont in the late 1820's and early 1830s.
There is whole book of this genealogist's notes and other newspaper
clippings and such. I will digitize the rest as I have time.

SURNAMES:
WILLMARTH
SMITH
PORT
CLARK
WRIGHT
HANKS
JONES
----------------------------------------------------------------------------
[Page One -- Births]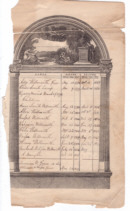 Names
Births
Deaths
Asa Willmarth Jun
May 18 1776
Oct 18 1869
Chloe Smith
Nov 9 1777
March 20 1864
They were married March 29 1798
Children
Amos Smith Willmarth
Aug 13 1798
April 3d 1835
Allen Willmarth
Nov 13 1800
Oct 2nd 1881
Russel Willmarth
Feb 3d 1803
Feb 29 1804
Ephraim Willmarth
Dec 13 1804
Jan 29 1823
Chloe Willmarth
Nov 22 1806
Nov 6th 1831
Orissa Willmarth
Sept 9 1809
Nov 17 1847
Henry Willmarth
June 25 1812
Jan 24th 1894
Rachael Melissa Willmarth
July 14 1814
A Daughter
Oct 18 1816
" " "
Truman W. Jones a son
of Truman and Orissa Jones
Apr 24 1847
[Page Two -- Marriages]
Children's Marriages
Names
Month-Day
Year
Amos Smith Willmarth &
Lockey Post were married
Jan 5
1826
Allen Willmarth &
Demira Clark were married
Jan 28
1828
Chloe Willmarth was married
To Elisha R. Wright MD
Aug 27
1829
Henry Willmarth &
Mary Hanks
July 14
1844
Rachael Melissa Willmarth
Was married to Reuben Hanks
1833
Orissa Willmarth was
Married to Truman Jones
Oct 24
1845
[Obituary of George Willmarth]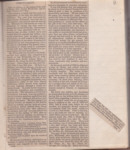 [Obituary of Asa Willmarth]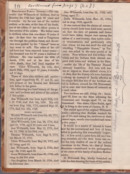 -------------------------------------------------------------------------------