Westenbarger Religious Book

Biblifche Hiftorien aus den Alten und Neuen Teftamente, Frankfort und
Leipzig, 1768.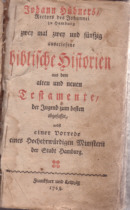 This looks like a Bible commentary or study guide. I do not read German.
It is a beautiful volume, with many engravings. It is in poor condition, with
a lot of wear. The spine is missing, replaced by a piece of cloth, and the
boards were handsewn back on. It is missing the clasps or bands that
used to hold it closed.
There are just a few entries in this book. The father Paul Westenbarger
appears to have arrived on the ship "Loyal Judith" in Philadelphia on
Sept. 3, 1742 and later settled in Maryland. Many of his descendants
settled in Fairfield County, Ohio. Please see: Origin of the Fairfield County,
Ohio Westenbargers, compiled by: Linvil G. Rich, in possession of the
Fairfield County, Ohio library for more details and sources.
Transcribed by and in the possession of Tracy St. Claire, tracy@stclaire.org .
SURNAMES:
WESTENBARGER
-----------------TRANSCRIPT STARTS-----------------
[Page One -- Reverse of Engraving of New Testament]
Anno 1802 on Sunday the Ninth of May was Born my Daughter
Nancey Westenbarger in the sign of the Lion
October the 11th 1806 on Saturday was Born my Daughter
Catherine Westenbarger in the sign of the Creps [?]
?une the 26th 1809 on Monday ?? Born my Daughter Elizabeth
??stenbarger in the sign of the ??shetz
November 5th 1811 on Tuesday was Born my son Samuel
Westenbarger in the sign of the Creps [?]
[Page Two -- Opposite of Page One, Reverse of an Engraving of
Martin Luther]
1787 November 1st Day Departed this life my father Paul
Westenbarger was old 60 years 5 months
1809 February the 8th Day Departed this Life my moth??
Freeny Westenbarger was about seventy eight or nine"