Weeks Bible

This Bible record was transcribed from the periodical Miscellanea Genealogica et Heraldica, Volume 1, 1874, page 14.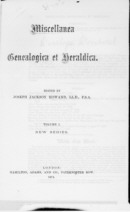 There are no place names mentioned here, but this periodical was based in London, and was in its premier edition. I think it is likely that this family lived in England.
Transcribed and commented by Tracy St. Claire.

SURNAMES:
WEEKS
BLANDFORD
MARSHALL


-------------Transcript Begins----------------------------
John Weeks was born Jan. 27th 1733.
Mary his wife was born August 21st 1733.
the son of John Weeks was born April 7th 1758 and Mary his wife born June 4th 1752.

[That is verbatim from the periodical.]
John Weeks was married May 18th, 1782.
Maria Weeks was born Dec. 9th 1783.
Maryann Weeks was born August 6th 1785.
John Weeks Jun was born April 11th 1787.
Thomas Weeks died March 19th 1814 In the 23d year of his age.
Thomas Blandford Died May 2d 1831 in his 19th year.
Mary Weeks the wife of John Weeks Senr Died April 23. 1835 aged 82 years and ten months.
John Weeks Senr was married to Sarah Marshall August 8th 1836.
John Weeks died February 7. 1853.
*Memoranda on fly-leaves of an old Bible in the possession of Mr. Coleman.

------------Transcript Ends-------------------