Walter Bible
Die Bibel oder Die ganze Heilige Schrift des alten und
neuen Teftaments. New York, American Bible Society
(I think), 1841.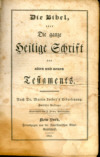 This Bible is structurally sound, but with heavy foxing.

Inserted within is a slip of paper that reads "Mr. Walter John Jr
You are hereby notified that I have included your name in my
Militia Roll as being liable to do military duty by the laws of
this State or of the United States. No 4 A.D. 1891 Fredck
Leitz Assessor of York Township."



Transcribed by and in the possession of Tracy St. Claire,
tracy@stclaire.org.

SURNAMES:
WALTER

-----------------TRANSCRIPT STARTS-----------------

[Page One -- Back Flyleaf]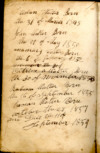 Lisean Walter Born the 31 of March 1848

John Walter Born the 11 of May 1850

Anamary Walter Born the 6 of february 1852

Catrine A. Walter Born the 30 of November 1853

Rabecca Walter Born the 16 of September 1855

Lucean Walter Born October the 28 1857
and Diet the 11 of September 1859

-----------END TRANSCRIPT-------------------------------