Van Fleet Bible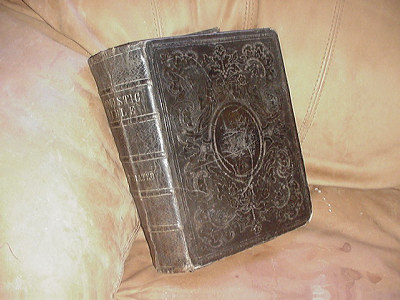 This Bible was purchased on eBay, along with
a TAYLOR Bible which is a related family Bible.

The Holy Bible Containing the Old and New
Testaments, Toledo, Ohio, D. Anderson & Company,
1864. This Bible appears to be a rare print, as I
cannot find it in any of the major Bible bibliographies.



Transcribed by and currently in possession of Tracy.

SURNAMES
VAN FLEET
RUNYAN
RAY
LORENZO
AFFOLDER
CARY
WILSON
PENNINGTON
COLE
FARNER
WALL
TAYLOR

---------TRANSCRIPT STARTS HERE-----------

[Page One -- Family Records Marriages]



C. Van Fleet and Anna Runyan married May 8th, 1839

Martha E. Van Fleet was married to J. Ray June 20, 1863

Mary C. Van Fleet married to P. M. Lorenzo
Sept. 3rd 1867

Chas. H. Van Fleet married B. Affolder Nov. 27 1867

Wm. Cary Van Fleet was married to Mary Isabella Cary
Apl. 17 1877

Mary Isabella, wife of W. C. Van Fleet died Feb 14, 1878

[Page Two -- Family Records Births]



C. Van Fleet Born Febr 5th 1817

Anna Runyan Born Oct 21 1821

Mabry B. Van Fleet Born March 28 1840

Charles H. Van Fleet Born April 12 1842

Pliny Oscar Van Fleet Born April 28 1845

Martha E. Van Fleet Born June 1st 1847

Mary C. Van Fleet Born May 1st 1850

[Page Three -- Family Records Deaths]



Mary Isabella wife of W. C. Van Fleet Died Feby
14th 1878

Anna wife of C. Van Fleet Died June 23rd 1888
at 12 o'clock noon

Frank T. Van Fleet Died August 10th 1896

Cornelius Van Fleet died Nov 14th 1901

[Page Four -- Births]



Wm Cary Van Fleet Born March 24 1852

Frank T. Van Fleet Born Feb 22 1858

Edwin A. Van Fleet Born Oct 2nd 1862

C. Van Fleet married to Anna Runyan May 8th
1839

C. Van Fleet married to Clarinda Wilson on
December 7th 1891

[Newspaper Clipping]



Mrs. Van Fleet Dead
Feb 27, 1909 [handwritten]

Prominent Resident of Palmyra Has Passed Away

Mrs. Pliny O. Van Fleet, a prominent Palmyra lady and
a resident of that township for 27 years, died at her farm
home at 6:15 Saturday evening of anaemia against whose
inroads she had fought valiently for two years, assisted by
the best medical skill and hospital care. Her life had been
given always so unsparingly, the more so because of the
invalidism of her husband whose health became impaired
during the civil war and her vitality was at too low an ebb
to allow her to recover. She had been in a decline for two
years. In October 1907, she went to Ann Arbor where
her married daughter, Mrs. L.H. Pennington resides and
remained in the university hospital until spring. In June she
re-entered the hospital, returning home permanently in
October. To one wont to be so active her retirement from
active work was indeed hard to bear. Mrs. Van Fleet's
sphere of usefulness extended beyond her home to which
she was so devoted. She was a prominent worker in the
Presbyterian church, in the Lady Macabees, the Woman's
Relief Corps and the Grange so long as health permitted,
and was always welcome in the time of illness with her
ready hand and sympathetic touch.

Deceased was born in Swanton, O., Sept. 20, 1849, moving
to Monclova after her marriage to Mr. Van Fleet in March 1871
[handwritten correction Nov 17]. Twenty-seven years ago
Mr. Van Fleet purchased a farm in Palmyra and there they
have since resided. In her immediate family are the widower
who is himself very ill, three sons and two daughter; Maynard
L. Van Fleet of Riverside, Cal., who was here to see his
mother last summer; Mrs. L.N. Pennington of Ann Arbor;
William Van Fleet, in business in Palmyra; Ralph and Edna
at home. Also two grandchildren, Phyllis Pennington and
Dorothy Van Fleet. Of her father's family she is survived by
three sisters and one brother, Mrs. Miner T. Cole of Palmyra,
who recently broke a 40 day fast and who is so critically ill
that she has not been advised of her sister's death. Mrs. Theresa
Farner of Toledo, Mrs. Addie Wall of Swanton and Romaine
Taylor of Swanton.

The funeral services have been arranged for Tuesday at 1:30,
standard time, from the Palmyra Presbyterian church, Rev.
George Humphrey to officiate and burial will be at Palmyra.
A quartet from the Presbyterian choir composed of Mrs. Arthur
Baldwin, Miss Elizabeth Humphrey, George Whitmarsh and
Arthur Baldwin will sing and the bearers will be W. H. Moore,
H.H. Atwell, Chas. Baldwin, L.G. Smith, John Hartley and
George Everett.

-----------END TRANSCRIPT----------------------------