The Holy Bible Containing the Old and New Testaments, Philadelphia,
Kimber and Sharpless, No. 8 South 4th Street. Undated, but this publisher
published from the early 1820s through the mid-1840s. This is definitely
a later edition.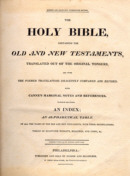 This Bible is in good condition. The binding is tight and nearly unblemished.
The pages are also in good condition.
This family was from Essex, Massachusetts. There is some ephemera tucked
in the back -- a newspaper clipping of the ruins of Cowdray Castle, Sussex
County, England; a clipping of white cloth with "Susan W Tyler May Virtue and
Truth be your Guide" written on it; a late 19th century die-cut reading "Drap D'ete'"; and an engraving of Dr. John A. Samson, M.D. (or Lamson).
Transcribed by and in the possession of Tracy St. Claire, tracy@stclaire.org.
SURNAMES:
TYLER
BALDWIN
SANBORN
SMITH
CARTER
NASON
KINKAID
BALFOUR
ROE
TURNER
DAVIS
-----------------TRANSCRIPT STARTS-----------------
[Page One -- Front Flyleaf]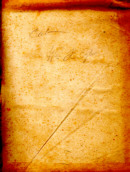 $2.50 Net
Cab
Wm B. Tyler
[Page Two -- Marriages]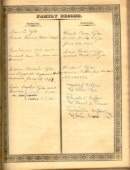 Moses C. Tyler
married Susan Willson Baldwin
Geo. Francis Tyler and Hannah Ann Sanborn
were married
William Baldwin Tyler
and Elizabeth Sayward Smith
married Jule 17 1858
Lydia Marshal Tyler married
Jerome Carter
on his death
Loren S. Tyler
Frank Berry Tyler
Married Minnie T Tyler
June 20 1894
Louis Porter Nason
Married Hattie Osgood Tyler
Herbert Tyler
Married Mattie Jane Kinkaid
Nov 10 1892
Marjorie L Barfour
and Allan F. Roe
Blanche O Balfour
and David A. Turner
Priscilla Balfour
and John David Oct 26 1940
[Page Three -- Births]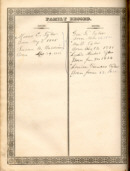 Moses C. Tyler
Born May 7 1805
Susan W. Baldwin
Born Apr 29 1805
Geo F. Tyler
Born Mar. 26. 1830
Wm B. Tyler
Born Aug, 13. 1831
Lydia Marshal Tyler
Born Jan 30. 1834
Louisa Frances Tyler
Born June 27, 1838
[Page Four -- Births]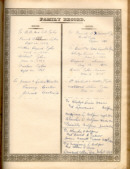 To W. B. and E. S. Tyler
Frank Berry Tyler
Sept. 26, 1859
Hattie Osgood Tyler
Mch 25 1862
Herbert Tyler
Jan 16 1867
Parker Tyler
Sept 30 1868
To Jerome & Lydia M. Carter
Fanny Carter
Jerome Carter Jr.
To Frank B & Minnie P. Tyler
Ruth Tyler
Apr 4 1899 [This might not be April]
To Louis P and Hattie Osgood (Tyler) Nason
Gladys Louis Nason
Jan 7 - 1890
Osgood Nason
Aug 16 1892
Louis Tyler Nason
Dec 6 1905
To Herbert & Mattie J. Tyler
Mildred Allen Tyler
Feb 12 1895
To Gladys Louise Nason
and Lawrence Balfour
Marjorie L. Balfour Aug 8, 1912
Blanche O Balfour Dec 16, 1914
Priscilla Balfour June 30, 1916
To Blanche O Balfour and David A Turner
Joan Carroll Turner May 8 1934
To Marjorie L. Balfour and Allan F Roe
Lawrence Allan Roe July 8 1939
[Page Five -- Deaths]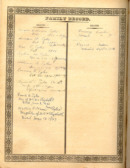 Moses Coburn Tyler
Feb 1897 -- 92 years
Susan W. Tyler
Oct. 7, 1884 72 yrs 5 mo. 8 dys
Geo F. Tyler
Oct 1901
Lydia M. Tyler
Dec. 20, 1902 -- 68 y 10 m 20 days
William B. Tyler
Nov 22. 1906 75 y 3m 9 days
Louisa F. Tyler
Oct. 30 -- 1910 -- 72 yrs 4m 3dys
Elizabeth S. Tyler (Smith)
wife of Wm. B Tyler
April 29 1911 77 yrs 4m 11ds
Frank B. Tyler
son of Wm B & Elizabeth S.
Died June 1, 1938
Hattie O. Nason (nee Tyler)
Daughter of W.B. & Elizabeth
Died May 13 1947
Fannie Carter
Jerome " Jr
Osgood Nason
Drowned Sept 1 1903
---------------END TRANSCRIPT----------------