Tirrell Family Record
This Family Record was found in the front of a TAY
Bible, of Rufus Lewis TAY and Charlotte TIRRELL TURNER.
I assume this is a copy of another Bible's records,
as the traditional MARRIAGES - BIRTHS - DEATHS layout
is the same.
The dates in the first writing end in 1864. The dates in
the second handwriting begin in 1867.
Transcribed by and in possession of Tracy St. Claire,
tracy@stclaire.org.
SURNAMES:
TIRRELL
COOK
TURNER
TAY
BURLEIGH
ODELL
[P] = Added in pencil, same handwriting
---------------START TRANSCRIPT-------------------------
[Page One -- Marriages]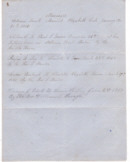 Marriages
Artemas Tirrell Married Elizabeth Cook January the 20th
1810
CC Tirrell To Paul S. Turner December 24th [blank] at her
Father's house in Stillman Street Boston By the Rev. Mr.
Hague
Rufus L. Tay to Charlotte C. Turner March 23rd 1843 By the
Rev. S. Streeter
Gordon Burleigh To Charlotte Elizabeth Turner March 27th
1851 By the Rev. S Streeter
Herman J. Odell to Lucie H. Tay June 2nd 1869 By the Rev.
William S. Savage. [P]
[Page Two -- Births]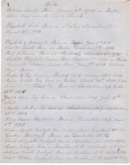 Births
Artemas Tirrell Born January 10th 1786 in Boston Salem Street
near the North Church
Elizabeth Cook Born in Sterling Massachusetts August 11th 1783
Elizabeth and Artemas Jr Born in Boston June 6th 1811
Charlotte Tirrell Born in Boston December 9th 1812
Paul S Turner Born in Pembrooke November 2d 1795
Charlotte Elizabeth Turner Born August 8th 1832 in Pembroke
Ariminelda Malvina Turner Born June 9th 1834 Stillman Street Boston
Rufus L. Tay born in Bristol N.H. January 22d 1814
Rufus Tirrell Tay born in Boston March 30th 1844 S Street
Lucy Hobart Tay Born in Charlestown, Mafs October 28th 1846
Joseph Noyes Tay born in Charlestown, Mafs July 20th 1848
Charles Miller Tay born in Charlestown Mafs September 23rd 1852
Henry Turner Burleigh Born in Charlestown Mafs August 5th 1852
Gordon Agustus Burleigh Born in Charlestown Mass. March 8th 1855.
Gordon Burleigh Born in Dorchester N.H.
Sarah Elizabeth Burleigh Born in Charlestown Mafs. Oct. 15th 1856
Freddie Burleigh Born in Franklin N.H. September 16th 1858
Artemas Tirrell Burleigh Born in Franklin N.H. Feb. 25th 1860
Robert Fletcher Burleigh Born in Franklin N.H. Feb. 17th 1862.
[Page Three -- Deaths]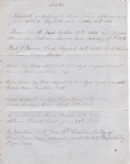 Deaths
Elizabeth & Artemas Jr Died Twins Artemas died June 8th 1811
Elizabeth died October 10th 1811
Isaac Tirrell died October 17th 1825 Aged 73 years
Arminelda Malvina Turner died January 27th 1836
Paul S Turner Died August 14th 1841 Aged 46 years Stillman Street
Boston
Sarah Tay Died April 27th 1855 Aged 62 years 1 month Fremont Street
Charlestown Mafs.
Rufus Lewis Tay Died August 2nd 1864 Aged 50 years 6 months Webster
Farm Franklin N.H.
Sarah Elizabeth Burleigh Died March 10th 1858
Freddie Burleigh Died April 11th 1859
Eliza Tirrell Died March 12th 1867 [P]
Artemas Tirrell Died June 28th 1869 [P]
In Franklin N.H. June 18th Charlie M. Fay of Charlestown Mafs.
youngest son of the late Rufus L. Tay 23 yrs 9 mos [P]
[Page Four -- Births]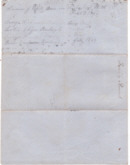 Births [P]
Herman J. Odell Born in Sanbornton N.H. Feb. 4th 1846 [P]
George Kirkwood Burleigh born May [P]
Lottie Eliza Burleigh " Feb. [P]
Emma Sparrell Burleigh " Nov [P]
Paul Sampson Burleigh " July 1869 [P]

------------END TRANSCRIPT-------------------------------