Tilton Bible
The Holy Bible Containing the Old and New Testaments.
Stereotyped for the American Bible Society by D. & G. Bruce,
New York, 1824.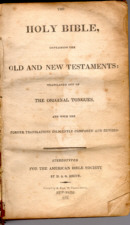 This Bible is in fair condition. The pages are all present and
look to be in good condition with minor foxing. The boards are
both present and in fair condition with wear. The spine -- and
the book itself -- is split straight down the middle throught the
Psalms, into two pieces. The spine is in surprisingly good
condition besides this, though, and the boards stayed attached
to the book.
There is not enough detail here for me to easily determine where
this family was from.
Transcribed by and in the possession of Tracy St. Claire,
tracy@stclaire.org.
SURNAMES:
STEWART
TILTON

-----------------TRANSCRIPT STARTS-----------------
[Page One -- Front Flyleaf]
When we at last reach that blest coast
O'er life's rough Ocean driven
May we rejoice no wanderer lost
A family in Heaven
Sepr 2d 1837 ~~ Thos Stewart
I am this day at Benjn Tiltons
[Page Two -- Rear Flyleaf]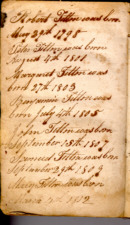 Robert Tilton was born May 29th 1798
Peter Tilton was born August 4th 1801
Margaret Tilton was born 27th 1803
Benjamin Tilton was born July 4th 1805
John Tilton was born September 15th 1807
Samuel Tilton was born September 29th 1809
Mary Tilton was born March 4th 1812
[Page Three -- Rear Flyleaf, Opposite Page Two]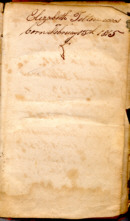 Elizabeth Tilton was born February 13th 1815
[Page Four -- Rear Flyeaf -- Very faint, in pencil]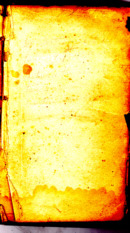 Beware-- Large 1.5MB File!!
Samuel S. Tilton
Dr mother Left us
January th 16 1837
Between the hours of
twelve and one o'clock
in the morning

---------------END TRANSCRIPT----------------