Taylor Bible
This Bible was submitted by Kevin Bradford in October of 2004. This Bible is his family Bible, separated from the family but repurchased on eBay.
Oxford: Printed by T. Wright and W. Gill, printers to the University, 1772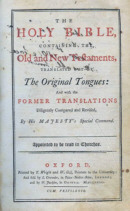 Verbatim extract of record from the family Bible of the Rev. George Taylor [1775-1851], resident of Onondaga Valley, NY. Taylor immigrated to New York State from Kingsbury, Somerset, England in August 1819 & settled in the Valley the following December. He founded Ebenezer Methodist Episcopal Church, Onondaga Valley, 1825. The final entry in this record was penned by Frederick Kimber [1810-1887], husband of Harriet Taylor. This Bible is now [Oct. 2004] in the possession of Kevin Bradford.
SURNAMES:
TAYLOR
RADFORD
BRADFORD
WILTON
NEWCOMB
KIMBER
----------------------------------TRANSCRIPT--------------------------------------------------------

First page: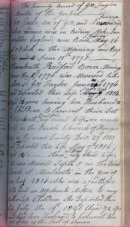 The Family Record of Geo Taylor
Minister of the Gospel _____
Geo Taylor, son of Geo., and Joanna Taylor
whose residence was in Rodney Stoke, Som
-ersetshire England, was Born Tuesday May 16
at 3 Oclock in the Morning and Bap
-tized June 11th 1775 _____
Elizeabeath Radford Born Monday
June the 17th 1776 Was Married to the
above sd Geo Taylor June 6th 1796
and Departed this Life June 24th 1812
Aged 36 years leaving her Husband &
5 Children to lament their Lost
Elizeabeath, Bradford my second Wife. We was Ma
rried in the Parish Church of Kingsb
-ury in the same County Decr 27th 1813
and she Departed this Life May 7th 1816
aged 34 do. ____ Ann, Wilton my Third Wife.
We was Married Septr 5 in the Parish
Church at Montacute in the year of
our Lord 1816 __ She was a faithful
Wife and an Affectinate Mother to my
Motherless Children She Departed this
life July the 19th 1846 Aged 72 Yrs
and levd her Husband to lament his
lost of one of the best of Woman

Second page: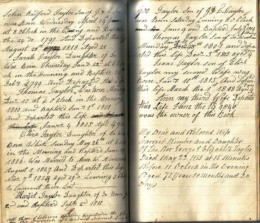 John Radford Taylor son of G & E Taylor
was born Wednesday April 19th
at 8 OClock in the Evening and Baptized
the 24 do 1797 And Departed this life
August 28th 1818 Aged 21
Sarah Taylor Daughter of Do
Was Born Thursday Janry 22nd at 6 OClo
-ck in the Evening and Baptized 19th
Febry 1799. And Departed this Life
Thomas Taylor son of Do Was Born Monday
Decr 15 at 6 OClock in the Morning
1800 and Baptized Janry 1st 1801 [*see note below]
And Departed this Life
Janry 4 1805 Aged 4 Yrs
Eliza Taylor Daughter of Do Was
Born White Sunday May 26th at 6 O.Clo
in the Morning and Baptizd June 19
1806. Was Married to Moses W. Newcomb
August 1 1827 And Departed this Life
Novr 7th 1834 Aged 29 do Leaveing 3 Children
to lament their Lost _____
Harriet Taylor Daughter of do. Born July
2nd and Baptized Septr 2nd 1810

All these childrens Baptism Registerd in the Church
in the Parrish of Wedmore Somerset England

Third page:

Geo Taylor Son of G. & E. Taylor
was Born Saterday Evening 8 OClock
June 9 and Baptized July 8th 1804 following
Thomas Taylor Son of do. was born
Munday, Janry 12th 1801 and depa
-rted this Life Decr 5th 1805 aged 4 yrs [*see note below]
Isaac Taylor son of Elizh
Taylor my second Wife was
Born Janry 10th 1815 And departed
this life March the 1st 1818 Aged 4 yrs
Ann my third Wife Departed
this Life June the 19th 1846
was the owner of this Book

My Dear and Beloved Wife
Harriet Kimber and Daughter
Of the Rev George & Elizabeth Taylor
Died May 22 1883 at 15 Minutes
Before 11 Oclock in the Evening
Aged 72 Years 10 Months and 20
Days


*These entries concern the same child. Thomas Taylor was baptized 12 Jan. 1801 at Wedmore and was buried there 11 Jan. 1805; cf. Wedmore parish register transcripts at http://www.tutton.org/burialst.html