Tate Bible
The Holy Bible Containing the Old and New Testaments,
Oxford, Printed at the University Press, For the Hibernian
Bible Society, Instituted in the Year 1806; and Sold at the
Society's Depository, 10 Upper Sackville Street, Dublin.
I can't place a date from this book, because there are too
many Oxford University Press varieties to sort through.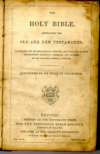 This is a small 24 mo. Bible, with both of its covers off.
It was later signed clumsily by Henrietta Linsley of Ionia,
MI, who may or not be a relative.
There is a lucky four leaf clover (from Ireland?) placed inside.
Transcribed by and in the possession of Tracy St. Claire,
tracy@stclaire.org.
SURNAMES:
TATE
LINSLEY
-----------------TRANSCRIPT STARTS-----------------
[Page One -- Inside Front Cover]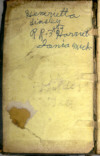 Henerietta Linsley
RR 3454 Harriett
Ionia Mich.
Lillie Tate
[Page Two -- Front Flyleaf - words here appear copied and re-copied]

Samuel Tate
Ballygarvin
No.
1881
?? Tate
10 March 1899
[Page Three -- Reverse of OT Title Page, this looks like a more recent
transcript of the above]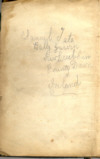 Samuel Tate
Bally Garvin
Kirkcubbin
County Down
Ireland
[Page Four -- Reverse of NT Title Page]

Mary Tate born 28th Jan [or Jun] 1884
Thomas Tate born 21st July 1886
Annie Tate born 9th Nov 1888
Lily Tate born 29 Oct 1890
?? Tate born 12th Jan [or June] 1892
J. F. Tate born 12th Nov 1895
W. E. Montgomery Tate born 11th Febr 1898
[Page Five -- Inside Back Cover]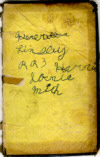 Henerietta Linsley
R R 3
Harrie
Ionia
Mich
---------------END TRANSCRIPT----------------