Somerville Bible
The Holy Bible Containing the Old and New Testaments,
Baltimore, John Hagerty, 1812, B.W. Sower & Co, printers.
Similar to Hills # 202. New Testament title page dated 1811.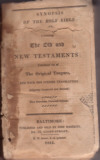 This Bible is in good condition for its age, but has parts lacking.
The original binding remains intact and sturdy. The title page is
missing a 1" piece at the top. Volumes lacks all after John 7:48
("I am the bread of life.") including flyleaves.
Transcribed by and in the possession of Tracy St. Claire,
tracy@stclaire.org.
SURNAMES:
SOMERVILLE
TAYLOR
-----------------TRANSCRIPT STARTS-----------------
[Page One -- New Testament Title Page]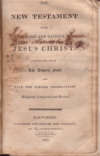 John Somerville Born November the 25th 1780
John Somerville Born Novem 1780
[Page Two -- Reverse of NT Title Page]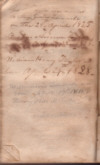 Geo. T. Taylor was married to Mary Goodloe Somerville on
the 28th April 1825
Frances Anderson Taylor was born April 22 1826.
William Henry Taylor was born April 24th 1828.
Willis Lewis Somerville was born April 19th 1811 at
Berry Still [?] Mclinberg [Mecklenberg] Va
G. T. Taylor was [not finished]