The Holy Bible Containing the Old and New Testaments,
New York, American Bible Society, 1869. Not in Hills,
but a very common ABS 8vo edition.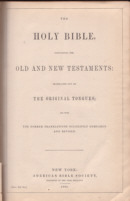 This Bible is in lovely condition, except for a page
that was accidentally ripped out by really cute toddler
before I could stop her. Cringe. The binding is still
intact with some scuffing, and the bottom of the spine
is a little ragged.
PERSI references an article in the Brighton Genealogy
Society Newsletter, November 1987, that appears to be
exactly this Bible ("Solomon Solenberger Bible, OH-IL").
I have not seen the newsletter, but possibly it has more
information about this Bible's history.
There is a lovely silk embroidered bookmark in this Bible,
with two flags crossing, one American.
Transcribed by and in the possession of Tracy St. Claire,
tracy@stclaire.org.
SURNAMES:
SOLENBERGER
STAUFFER
REEVES
KENNEDY
HOOD

-----------------TRANSCRIPT STARTS-----------------
[Page One -- Family Record Marriages. This page is done in
lovely Fraktur script with an illustration that I thought
was printed on the page.]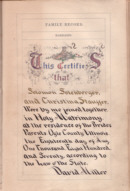 This Certifies that Solomon Solenberger, and Christina
Stauffer, Were by me joined together, in Holy Matrimony.
at the residence of the Brides Parents, Ogle County, Illinois,
the Eighteenth day of Aug, One Thousand Eight Hundred and
Seventy. according to the Law of the State. David Miller
[Page Two -- Births]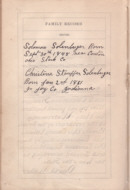 Solomon Solenberger Born Sept. 30th 1848 near Canton Ohio
Stark Co
Christina Stauffer Solenberger Born Jan 2nd 1851 in Jay Co
Indiana
[Page Three -- Births]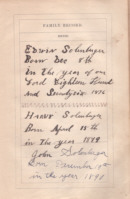 Edwin Solenberger Born Dec 8th in the year of our Lord
Eighteen Hund And Seventy six 1876
Harvy Solenberger Born April 15th in the year 1879
John Solenberger Born December 19th in the year 1890
[Page Four -- Paper Tipped in]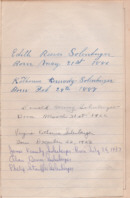 Edith Reeves Solenberger Born May 21st 1886
Katharine Kennedy Solenberger Born Feb 24th 1887
Donald Money Solenberger Born December 22, 1922
James Kennedy Solenberger Born July 26, 1937
Alan Dewar Solenberger
Philip Stauffer Solenberger
[Page Five -- Reverse of Page Four]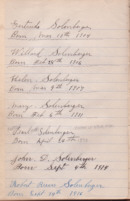 Gertrude Solenberger Born Mar 13th 1904
Willard Solenberger Born Feb 28th 1906
Helen Solenberger Born Mar 9th 1907
Mary Solenberger Born Feb 6th 1911
FLORENCE Pearl HOOD Solenberger MOTHER OF HELEN, MARY
Born April 24th 1878
[italics are in pencil, added later]
John D. Solenberger Born Sept 4th 1914
Robert Reeves Solenberger Born Sept 14th 1916
---------------END TRANSCRIPT----------------