Shilton Bible
The Holy Bible Containing the Old and New Testaments
Oxford, printed at Clarendon Press by Samuel Collingwood
and Co., London, 1822. Similar to Herbert 1719. Bound
by Thomas Cross, Holborn.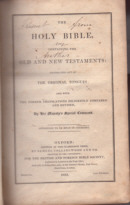 This Bible was sold to me as "missing the back cover", but
it is actually missing over half of the entire book. The last page
is 480, Psalms 118.
Luckily some family pages were in the front, but if there was
more information in this Bible its fate is unknown.
Transcribed by and in possession of Tracy St. Claire, tracy@stclaire.org.
SURNAMES:
SHILTON
PRODDOW
----------------------------------------------------
[Page One -- Inside Front Cover]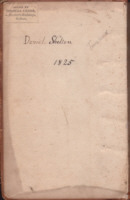 Daniel Shilton 1825
Townsend
[Page Two -- Front Flyleaf]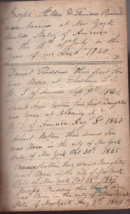 Joseph Shilton & Frances Proddow were married at New York
United States of America on the 18th of July in the year of our
Lord 1840.
Daniel Proddow their first Son was Born at Flushing L.I.
U.S. of America Sep 9th 1841
Sarah Ann Collin their first Daughter was Born at Albany N.Y.
U.S. of America Augst 3rd 1843
Robart Bolton their second Son was Born in the city of New York
State of New York Oct. 30th 1845
Frances Collin their second Daughter was Born in the city
of New York State of New York Oct 30th 1845
Joseph Proddow their third Son was Born in the city of New York
State of New York Aug 9th 1849
[Page Three -- Front Flyleaf]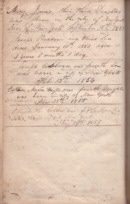 Mary Jane their third Daughter was Born in the city of New York
State of New York September 18th 1851
Joseph Proddow our third Son died January 10th 1853 aged
3 years 5 months 1 day
Joseph Osborn our fourth Son was born in city of New York
Feb. 13th 1854
Esther Maria Hayton our fourth Daughter was born in city of
New York Nov 28th 1855
Elizabeth Ellen our fifth Dauter [sic] was Born in city of New York
May 29th 1857
[Page Four -- Title Page]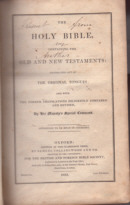 Present from my Mother
[Page Five -- Written on Introduction Page]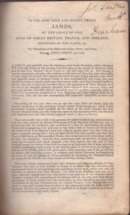 Jos. Shilton Book ~ Dearham

------------------------------------------------------------------