Sechler Bible

The Holy Bible Containing the Old and New Testaments,
Philadelphia, M'Carty & Davis, 1829. Hills # 670.

This Bible is in good condition. The front board is present
but detached, and the book itself appears entirely intact
including the marbled endpapers. There is considerable
foxing, and there is some signatures on the middle that have
slightly bulged outward.
In addition to the Bible, I have a packet of 19th century
letters. These are mostly surrounding a Michael Sechler
son of the Abraham Sechler in this Bible, and his family.
I will transcribe and digitize those as time permits. Some
of them are:
--To "Brother" from J.M. Sechler, White Rock, Ill., April 8, 1861
--To Esteemed Friend M. Sechler, from Lib, Otter Creek,
Feb. 12th 1856 (very chatty)
--Several Letters to Lottie Sechler, early 1880s, from
Hattie and Cora Campbell, cousins in Holcomb, Ill.
--To "Son Michael" from Abraham, White Rock, July 17, 1856
--Same, October 22, 1860
--To "Son Michael and Daughter Catherine" from Abraham,
in Lane, Ill., January 1st, 1859
--To "Sons Antis and Michael" from Abraham, White Rock, Ill,
Jan 5th, 1857. On back of page, a note to "Brother Michael"
from James Sechler.
--To "Brother" from A. Sechler, White Rock, March 24, 1857.
-- To "Bro Mike" from Abe, White Rock, 1874 (this is the younger
Abe)
--To Mary, from "Your Affectionate Husband, Peter Sheddy",
from White Rock, May 26, 1856

Transcribed by and in the possession of Tracy St. Claire,
tracy@stclaire.org. Most letters transcribed by Judith Rill.
SURNAMES:
SECHLER
LOWE
CAMPBELL
SHEDDY
BOWER
-----------------TRANSCRIPT STARTS-----------------
[Page One -- Marriages]
Michael Sechler to Rebecca Lowe was Married September 20th 1797
[Page Two -- Births]

William Sechler was born October 20th 1798
Abraham Sechler was born December 2nd 1799
Mary Sechler was born August 11th 1801
Rebecca & Antis Sechler was born June 22nd 1803
Antis Sechler was born June 27th 1805
Infant was born December 10th 1806
Infant was born January 3d 1808
John Sechler was born March 4th 1809
Katharin Sechler was born April 22nd 1811
Elevia Sechler was born December 25th [?] 1814
Mackey Sechler was February 15th 1816
Barbara Sechler was born October 31st 1822
[Page Three -- Deaths]

Antis Sechler Died November 1st 1804
Infant Died December 1st 1806 [doesn't make sense with date above]
Infant Died January 3d 1808
Barbara Sechler Died September 22nd 1823
Mackey Sechler Died October 8th 1823
Michael Sechler Died February /26" 1847
Rebecca Sechler Died March 15" AD 1855
[Letters -- spelling as read]
Point of Rocks
August 28th 1853
Michael Sechler
Dear Cousin as this is a comfortable & pleasent day I now
take up my pen to communicate to you a few lines as I feel
anctious to heare from your neibourhood occationly and I
have just thought that you would be such a one that would
do so in case I would open a corisspondence with you.
For I must tell you that they are verry careless writers about
hance for I have sent several letters home that is to Jonathan
& Lydia sence I was thare last spring but haven't heard from
eather of them sence.
Now I can't tell you that I have any importment matters to tell
you But I will give you some matters so that it will give you
some inducements to give me something in return. In the first
place I must tell you that I have injoyed good health this summer
so far which is one of the greatest things on this Earth I know.
Hope you injoy that blessing. As you see through the publick
prints thare is many prevailing disseases going through the
country at different places; But we have had none to visit us
in this neabourhood But within the last week or two thare has
been a good many taken with the chills & Feaver nearly one half
of the hands that work on the Bridge have been taken with this
complaint. I think this is one of the worst places I ever saw for
the fever & aguea. But I have asscaped so far & those that
havent had it yet will moss likely asscape; we have now for a
weeak past had a change in the weather and I assure you I have
been glad of it. For we likely to got burnt up some days by
the Broiling Sun such hot days I never experienced as I did this
summer. I will now tell you that we have got the Bridge ready for
traveling but the weather boarding and roofing is to go on yet
which will take us untill about New Years; I wish it was don now
for I am getting the Blues at this place; and the reason of this I
presume is some because I cant live more at home That is with my
wife for she lives at Shepherdstown & I live heare I get home once
in 2 and 3 weeaks But I would like it much better if I was living
with her She had been sick some 2 or 3 weeaks ago but is tolerable
well now; I think after this Job is done I will try and make my
work suit so that I can be at home wharever that may be But I
calculate to leave Shepherdstown in the spring Father & Jonathan
wished and told me I should come & move up thare by next spring
I haven't made up my mind to do so But such might be the case if
thare will be a good chance for my business and if that rail road goes
on I think thare will be a good deal of work in that neibourhood; now
Michael I want you to give me all the pertickles about rail road &
other buisness matters I now want to tell you what we heard about
Big Abe as he use to be called I saw a man by the name of Johnson
who saw cousin Abram at Panama on his way to Calafawna; so
now we are sadisfied that He Has gone to Calafana instead of
Australa as he said he was going His wife still lives in Columbia.
Now if you get up in Black Whole & see any of our Foalk tell them
to write
The forepart of this summer was verry dry but of late we have had
some verry hevy raines The corn crops & late potatoes will be
good Peaches & apples are tolerable plenty
The Chesapeak & Ohio canall and the Baltimore & Ohio Rail Road
are doing a good bisness at present
I will now come to a close But dont forget to write soon & tell me
how your sister Elizabeth has got Remember me to all Friends
I remain your cousin Abm Bower
Michael if Saml Bower is in your neibourhood let me know as I
want to write to him some of these days
************************************************
White Rock Jan 5th 1857
Sons Antis & Michael
After my respects to you and all enquiring friends I will
inform you that I this day received your letter which informed
us that you were well and enclosed found fifty dollars which
I paid to Dan Frebley & lifted your note our family are all
as well as commen with the exception of my self I went to the
grove for a load of wood the next morning after you left and
driving through the grove there was a Sapling caught my legs
and sprained them very much I was not able to walk for
several days and I am very lame in my knees yet
Michael & Antis Sechler Abraham Sechler
[same page]Jany 7th
Adam Benners child died last night and him and his wife are both
sick so much be that he is not expected to live Samuel Doctors
family is nearly all sick Susan is very dangerously ill with the
exception of these two familys general health prevails in our town
I wish you to make enquiry about a Hausa Reeper and let me
know what they can be had for perhaps they can be had reasonable [?]
to get them introduced into this country Michael I want you to do the
best you can with the Luat [?] and have it come to a speedy close
as I am anxious to have the terminous of it as I want money and if
that goes against me I shall have to sell some of my property I aught
to have some money in the spring to purchase fencing and also a
few acres of timberland for [??] write soon and let me know all
about the Reeper and the Lunt [?] as far as you know
With Respect
Michael and Antis Sechler Abraham Sechler
[same page]
Brother Michael
as there is a little blank paper I will endeavor to drop a few lines to you
now I want you to send the Gazette or the Pennsylvanian The
Pennsylvanian is publised at Philadelphia and
Still Remain yor Affectionate Brother
M Sechler James Sechler
*************************************************
Lane Dec 1st 1866
Son Michael
After my respects to you I will inform you that we are all well as usual
and that James is at home he came home on the 24th of this [??]
he is well and if you have not applied that money to father Porter's
note he would be glad if you would send it to him I have nothing to
make money out of this year I have no wheat to sell and not enough
corn to feed my hogs but we still live in hopes we will have better
crops next year I have money enough coming to pay all debts if I
can get it Thomas Baker does not say a word about paying me his
crop is also poor and he has no was of raising money and I shal have
to do the best I can answer me on the receipt of this and let me know
if you have applyed to my note I shall have to raise some money for
James
from Your Father
Abm Sechler
************************************************
****************************************************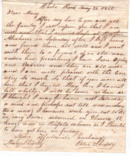 White Rock, May 26, 1856
Dear Mary
After my love to you and all the family. I will inform you that I am well and
that I arrived safe at Brother Abrahams on Saturday after I left home and
found them all well and I went with them to a funeral of an old man we had
preaching. I have seen Oysters and Oakeses and they are all well and I am
well pleased with the country(?) so much so that if you were all here that I
could stay here. I cannot tell whether I will be home as soon as I thought. I
may be home next Saturday a week and perhaps not till Wednesday two
weeks. I however wish you not to be un easy. I was detained in Elmira 12
hours and in Bufalo 10 hours or I should to have got here on Friday.

Your affectionate husband, Peter Sheddy
********************************************************

Page 1
White Rock, March 24, 1857
Dear Brother
You perhaps begin to think that I have forgotten my promise I made
you but I have had so much to occupy my attention since my arriving
here that you will excuse me for not writing sooner. Our folks are all
well at preasant and doing the best we can. We arrived at home on
Satturday following safe and sound without any thing of importance
occurring. After leaving Williamsport we stopt over night at Elmira,
and mist every connection on the road. The drivewheels on the
locomotive runn off the track eight miles from Laport and was detained
five or six hours but as luck happened it runn off to the inside of a curve
which it run off to the outside would of pitch off an imbankment 15
feet high. Pap says he received the tobacco with thankfulness. He says
it is the best he has had since he came to the State. I left Croli(?) in
Chicago in good spirits for Matison (?) and if he don't get into business
there he will be down this way and I think we will go to Kansas if I can
make it suit and if not I will

Page 2
work by the month. I can get twenty two dollars and found that is pretty
good wages working on a farm. I got that money home safe but it made
an impression on my ?? if I could of got it off handy I would carried it
some other way. Pap says it comes very good but would like to have as
much more this spring to make it go right; he has got two teams. Dan
bought a horse and will let him work it this somer. That fellow that shot
the Shiriff last fall at Rockford has got his sentence and now will be hung
on the 27 there is some agoing from this place to se the opperation but I
would rather be excused.
When I arrived at home the first question was if Mike married. tha was
surprised when I answered no. Tell me when you write all the particulars,
and tell me how Mr. Porter is and in fact I want you to tell me all the general
news about the valley, and I want you to give my respects to all my friends
about there. And especialy to Will Mackey tell him to remember the B_____t .
But as it is getting quite late in the evening I must close and retire. So I say
good night Mike.
From your brother, A. Sechler
**********************************************************

***********************************************************************
********************************************************************
********************************************************************
******************************************************************
Graves of Sechlers in Ogle County, IL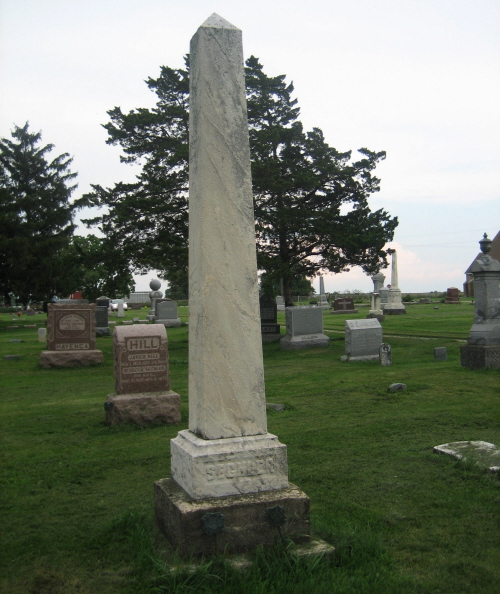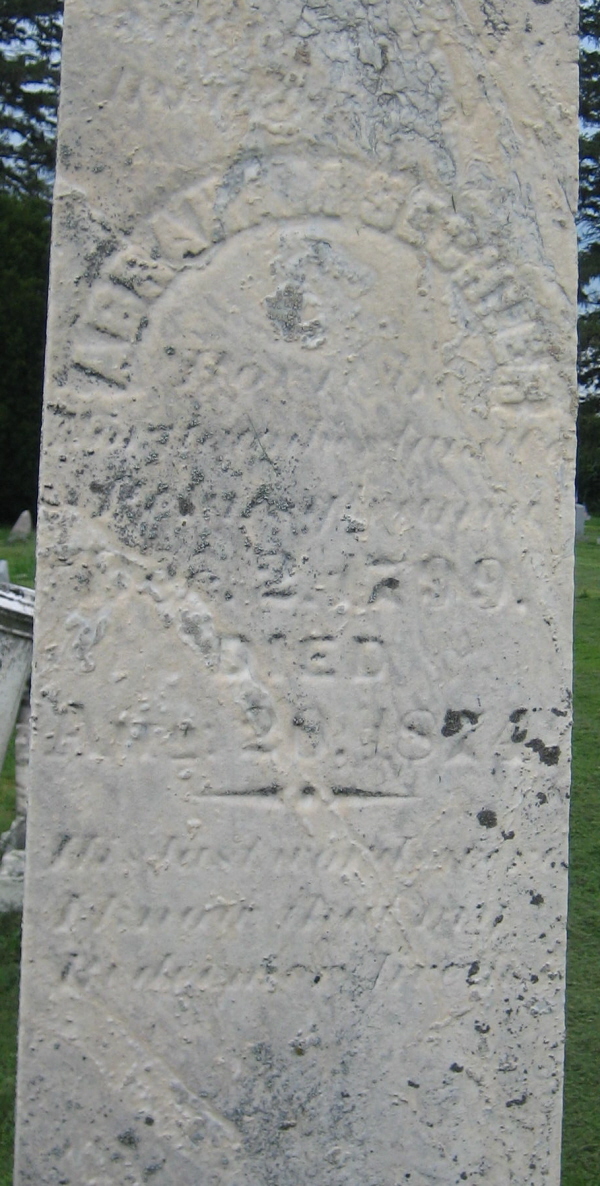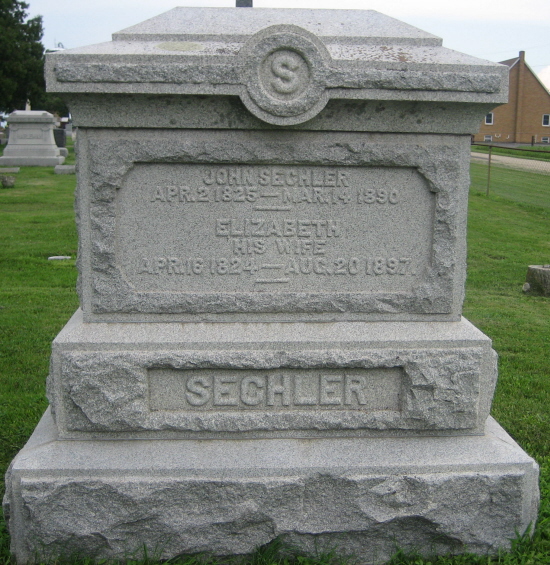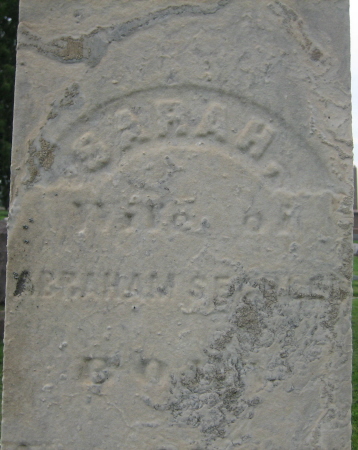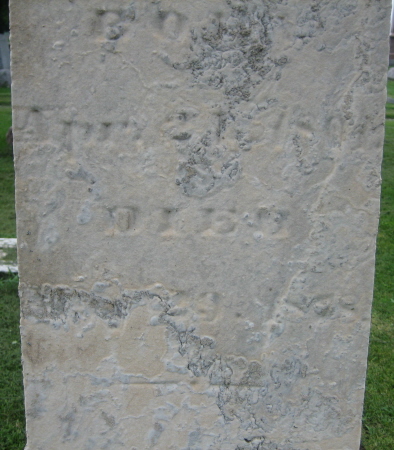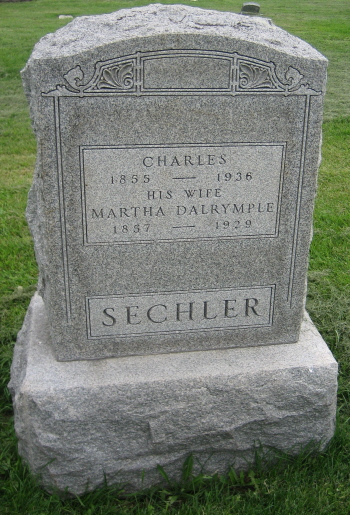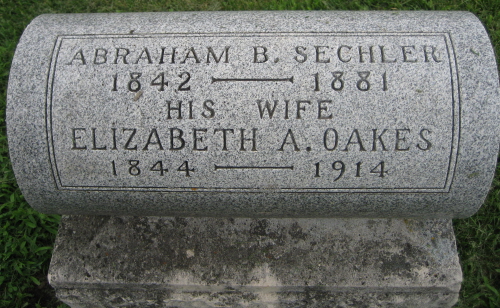 ---------------END TRANSCRIPT----------------