Schoch Bible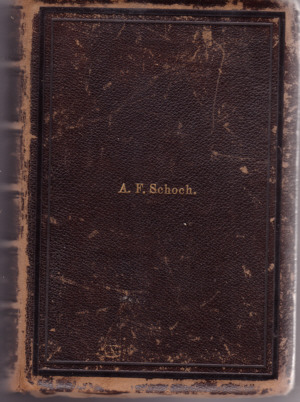 The Holy Bible Containing the Old and New Testament, New York,
American Bible Society, 1880. [Minion Ref. 12 mo.] On the cover
in gold -- "A.F. Schoch." The back cover is detached.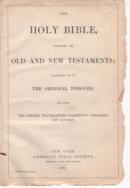 This Bible is in good condition, with a couple pages that have come
loose. In the middle, only one page remains in the family register
section. Inside the front cover I found a list of names and dates
on a loose and folded sheet of paper. I cannot tell if or how these
people are related to the Schoch family. I think it was probably
written all at the same time -- after 1941. It is all in the same hand
and on later graph paper.
Transcribed by and in the possession of Tracy St. Claire, tracy@stclaire.org .
SURNAMES:
SCHOCH
STODDARD
FINNERTY
-----------------TRANSCRIPT STARTS-----------------
[Page One -- Front Flyleaf]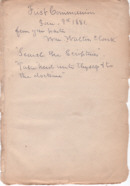 First Communion Jan 9th 1881
from your pastor Wm. Walter Clark
"Search the Scriptures"
"Take Heed unto thyself & to the doctrine"
[Page Two -- Family Record Deaths]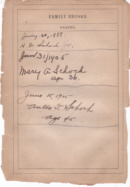 July 20, 1888.
A. F. Schoch Jr.
Jan. 31 / 1905
Mary A. Schoch
age 36.
June 15, 1905
Anton F. Schoch
[Paper]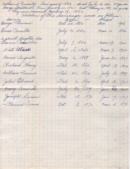 Catherine Finnerty - born year of 1833 - died July 18, 1890, 57 yrs. old.
George Stoddard, born January 21, 1821 - died February 26, 1887, 66 yrs old.
Name
Born
Died
George Thomas
Oct. 24, 1850
Dec. 1906
Emma Camilla
July 12, 1852
Mar. 10 1854
a second daughter also
Emma Camilla
July 7, 1854
Mar. 19, 1941
Kate Alice
April 16, 1856
Mar. 7, 1926
Anna Augusta
May 2, 1858
June 21, 1927
Richard Henry
Feb. 28, 1860
April 19, 1904
William Francis
Feb. 21, 1862
July 3, 1927
John Edward
Feb. 6, 1864
April 2, 1926
Mary Amanda
July 30, 1869
Jan. 31, 1905
Joseph Simon
Feb. 18, 1870
Jan. 17, 1927
Florence Irene
Oct. 3, 1872
Mar. 5, 1878

---------------END TRANSCRIPT----------------