Salsbury Bible
These Bible pages were acquired from a man in New York
who saved them from Bibles "that were being thrown away".
They are in good condition. I estimate them to be later
19th century, contemporary with the first marriage noted.
The handwriting is a little difficult in places; please check the
scans before using the transcript for anything important.
The Social Security death index places Virgil's death in 1976
at the age of 102 (still in Oswego County, NY). May we all
be so blessed.
Transcribed by and in the possession of Tracy St. Claire,
tracy@stclaire.org.
SURNAMES:
SALSBURY
HILLS
BIDDLECOME
COLE
COVILLE
GETMAN
-----------------TRANSCRIPT STARTS-----------------
[Page One -- Marriages]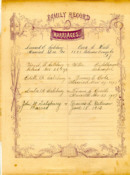 Leonard E. Salsbury & Cora S. Hills
Married Dec 20 1871 Palermo Oswego Co NY
Virgil B Salsbury & Httre [LDS says Harriett] Biddlecome
Married Nov 26 1894 Schrorpel
Edith A Salsbury & James E Cole
Married Mar 29, 1897
Lula A Salsbury & Frank J Coville
Married Nov 27 1907
John W Salsbury & Frances Getman
Married June 18 1913
[Page Two -- Births]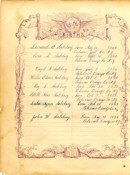 Leonard E. Salsbury born Aug 31 1846
Orleans Jeff Co NY
Cora S Salsbury born Sept. 16 1852
Palermo Oswego Co NY
Virgil B Salsbury born July 1 1874
Palermo Oswego Co NY
Willie Elmer Salsbury born Oct 1 1875
Palermo Oswego Co NY
Ray L. Salsbury born Feb 20 1877
Palermo Oswego Co NY
Edith Alice Salsbury born Oct 3 1878
Palermo Oswego Co NY
Lula Agnes Salsbury born Feb 28 1882
Palermo Oswego Co NY
John W Salsbury Born Aug 13 1886
Palermo Oswego Co NY
[Page Three -- Deaths]
Leonard E. Salsbury Aug 20.20.1926
Willie. E. Salsbury Nov. 7. 1925
Ray S. Salsbury Died Feb 22 1897
Cora L. Salsbury June 13. 1945
James E. Cole Dec. 9. 1949

---------------END TRANSCRIPT----------------