Roundell Family Register
This is a single sheet of paper with the family's register.
It may have been in a Bible or another book originally;
there are faint impressions of words on the surface.
On the bottom it says in TINY letters:
BLACKIE & SON GLASGOW EDINBURGH & LONDON
and the names of the artist and engraver.
Purchased in England. Transcribed by and in possession of Tracy
St. Claire, tracy@stclaire.org.
SURNAMES:
ROUNDELL
Everything below is original to source, including omission
of some years.
-------------------------------------------------------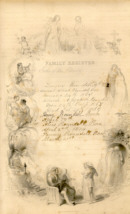 Family Register
Father of the Family
Frances Roundell Born 19th Nov 1862
Harriet Stead Roundell Born November 24th 1863
Annie Elizabeth Roundell Born 24th Octr 1868 [9 overwritten]
Died Feb 20th 1869
Henry Roundell Born April 19th
Alice Roundell Born April 2nd 1874
Fanny Roundell Born March 21st

-----------------------------------------------------------