Rogerson Bible
The first pages of this Bible are missing up through a little of
Genesis, including the general title page. The New Testament
title page reads as:
The New Testament of our Lord and Saviour Jesus Christ...
Oxford, Clarendon Press, Samuel Collingwood and Co.
1830. Similar to Herbert 1766.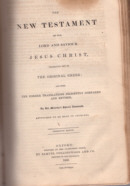 This Bible is in poor condition, with the front cover detached
and the rest of the binding very loose. The signatures appear
solid. There is some electrical tape across the spine holding
everything together, and I think the original spine is underneath.
There is little written genealogy, but a lot of ephemera in the
pages -- locks of hair, clippings, fabric, crafts -- which I scanned
but did not transcribe.
Transcribed by and in the possession of Tracy St. Claire,
tracy@stclaire.org.
SURNAMES:
ROGERSON
BROWN
-----------------TRANSCRIPT STARTS-----------------
[Inside Front Cover]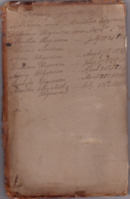 Family Register of
William and Martha Rogerson
William Rogerson born Novr 1st 1810
Martha Rogerson -- July 22d 1814
Their children
Ann Rogerson -- Augt 7th 1837
William Rogerson -- Jany 17th 1840
Mary Rogerson -- April 24th 1847
Charles Rogerson -- March 27th [21st?] 1850
Martha Elizabeth Rogerson Feby 12th 1853

[Inside Back Cover]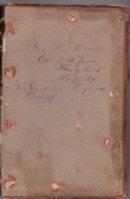 Mrs. H. Brown
Coalfield farm
Thurgoland
Sheffield
England
In Care of
Mr. Zachariah
Hinchliff