Robbins Bible
Submitted by Tara Hawkins.
This bible was up for auction on ebay in March 2003. The seller gave permission for the following photograph and transcription to be posted to this site. Seller bought this at an estate sale in southern New Jersey.
Transcribed by seller.
Description:
HOLY BIBLE, published by D & G BRUCE, printed and sold by A. PAUL, 72 NASSAU STREET, NEW YORK in 1823. The binding is good and has not come apart, leather cover is quite thick and intact with the exception of a tear at the top left side of the spine leather and a crack in the bottom left spine leather. This does not affect the magnificence of this book. The pages are delicate, worn at the edges and this bible has all of the pages. It measures 4 1/2 by 7 1/4 inches, and has ALL of its 837 pages.
SURNAME:
ROBBINS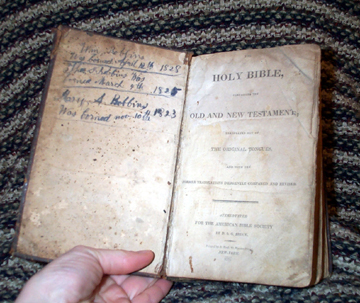 Inside Front Cover
Wm. Robbins was borned April 12th 1828
Thos. S. Robbins was borned March 4th 1825
Mary S. [it looks like an A to me] Robbins was borned Nov 10th 1823