Rajala Bible

This is from a Finnish bible that was up for auction on eBay in January 2003. The seller gave permission for the photograph and transcription to be submitted to this site.
Transcribed by Tara Hawkins. Please note that I do not know any Finnish and therefore have tried to transcribe this to the best of my ability.
Translated to English by my friend Eija Tuomaala in Finland.
SURNAMES:
IMMONEN
RAJALA

--------------------------------------------------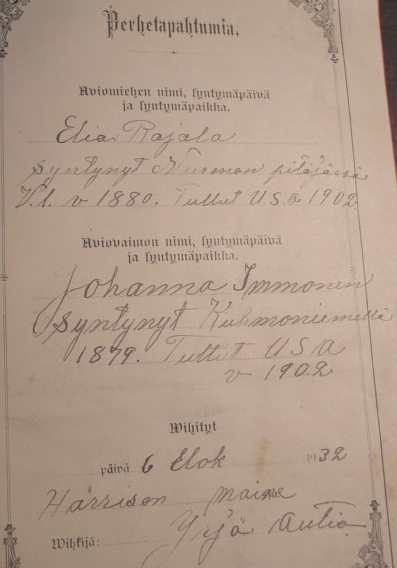 Perhetapahtmia Family events
[section unknown - can't read enough to transcribe]

Elia Rajala
Syntynyt [unreadable]
…. 1880 Tullut USA 1902

[unreadable]
Johanna Immonen(?)
Syntynyt [unreadable]
1879 Tullut USA
v 1902
[unreadable]
….. E Elok 1932
Harrison Maine
….Yuja Autio(?)


TRANSLATION:

Name of husband, birthday and birth of place
Elias Rajala
born in Nurmo community
at year 1880 come to USA 1902

Name of wife, birthday and place of birth
Johanne Immonen
born in Kuhmoniemi
1879 come to USA
1902
Married
August 6th 1932
Harrison Maine
Married by Yrjö Autio