Pugh Bible Pages
These pages were donated by Cheryl Needle of Pepperell, Massachusetts.
These are family record pages pulled from a Bible. There are
only a few entries.
I find what might be Emma and Mary Jane in the 1860 census,
all others in this family having died by then. They are living in
the household of weaver Edward Tyler in Enfield, Hartford,
Connecticut and she is working as an operative. Edward and his
wife are in the age range to be her parents. All in this household
were born in England except Mary Jane who was born in CT.
They are both working in the carpet mills in the 1870 census, one
house down from Edward(s) Tyler in Enfield, Hartford, Connecticut.
This is not exactly proof, but these records were collected in New
England.
Transcribed by and in the possession of Tracy St. Claire,
tracy@stclaire.org.
SURNAMES:
PUGH

-----------------TRANSCRIPT STARTS-----------------
[Page One -- Family Record]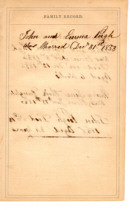 John and Emma Pugh was married Decr 31st 1853
[Page Two -- Family Record]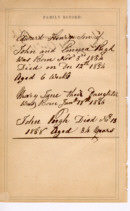 Edward Henry son of John and Emma Pugh was Born
Novr 3rd 1854
Died on Dec 12th 1854
Aged 6 weeks
Mary Jane their daughter was Born Jany 18th 1856
John Pugh Died Novr 13 1858 Aged 34 Years
---------------END TRANSCRIPT----------------