Perry Bible
The genealogical information for this family was written on the reverse of
a New Testament title page from another Bible (Edinburgh, Blair and Bruce,
1799). This page and the first page of Matthew were placed in a later
Bible -- The Holy Bible Containing the Old and New Testaments, Philadelphia,
M. Carey & Son, 1817. The Carey Bible has no markings.
The binding is original, with a bookseller's tag inside it from Boston, dated
1818.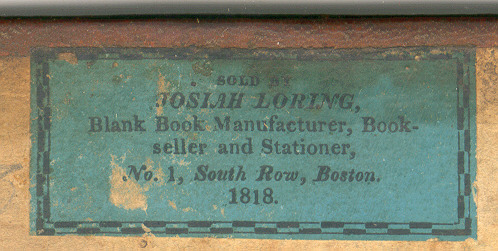 This Bible is in good condition, with the original binding still intact, or was, until
I dropped it : (. Now the cover is off.
The entries on the page were written sideways as well as down the page.
Transcribed by and in the possession of Tracy St. Claire,
tracy@stclaire.org.
SURNAMES:
PERRY

-----------------TRANSCRIPT STARTS-----------------

Sophiah Perry was born May the 27th 1822
Robert Perry was born April the 21 1824
Margret Perry was born October 31 1826
Thomas Perry Departed this Life September 26 1826
Sophiah Perry
Thomas Perry was born January the 7 1829
Sarah Jean Perry was born July 28 1836
Samuel Perry was Born June 10th 1831
Samuel Perry Departed this Life February 20th 1833
Hugh Perry Was Born February the 12 1834
Sophiah Perry Departed ?? Life ?? the 7 1834
John Perry Was Born September 25 1839
Elizabeth Perry Departed This Life August the 12th 1848
Hugh Perry Departed this Life January the 3 1834
---------------END TRANSCRIPT----------------