Pendell Family Record
This family record is written on a sheet of paper front and
back. It is a record of births and deaths that was copied out
of an "old register". This was done on or before 1837, where
diary-like entries were written afterwards.
Hannah was born Hannah Brooks in Eastbury, CT, according
to some Internet accounts (unverified).
Apparently there was some religious rift in the family, based on
what is written below.
Transcribed by and in possession of Tracy St. Claire,
tracy@stclaire.org.
Scanned images of the original are at http://www.biblerecords.com
Note: the scanned images are very large (~750K- ~1MB).
SURNAMES:
PENDELL
BROOKS
--------------------------------------------------------------
[Page One]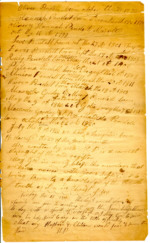 Oliver Pendell born October the 7 1776
Hannah Pendell born December th 14 1778
Oliver & Hannah Pendell Married Oct the 16 AD 1799
Levi Pendell born Oct the 27 AD 1801 Tuesday
Davis Pendell born Sept the 17 AD Sat 1803
Philena Pendell born Sat Auguft the 6 AD 1806
Almira Pendell born Wed March the 20 AD 1811
Warren Pendell born Thursday March the 18 AD 1813
Alexander Gordon & Mary Pendell born May the 5 AD
1816 & AG died May the 7 1816
Alexander Gordon & Eliza Matilda Pendell born Sat October the
02 AD 1820
July the 5 1822 we had a Daughter born & deceased the 27
of the same month
this written by me HP is a correct draught of the old register
May God in mercy blefs the members that are here named with
grace sufficient to bring them to a knowledge of the truth as it
is in Christ Jefus
Sunday Dec 21 1837 this day I am alone my Family are gone to
meeting O may the Lord blefs them to day with a spirit of worfhip
O I Pray God to send down his holy spirit in the little affembly
that my husband &children would fear & serve the Lord HP
[Page Two]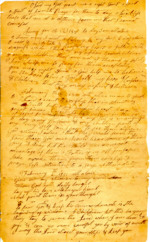 O Lord my God grant me a right spirit a spirit a spirit of humble
Prayer for them to day o Lord blefs those that are at a diftance
from me that I cannot counfel
Sun Jan 12 AD 1840 to day I am all alone O Lord may I meet a
blefsing to my soul to day while I read & meditate & Pray o my
heart is filled with anguifh while I think on my orphan Grandechildren
& on my children that are out of the ark of life. O Lord help me to
pray for them acceptably give me a right spirit O God help me to
believe on the Lord Jefus O God help my poor Hufband & children
that they may repent and believe
February th 16 1840 all alone no one to speak to. O Lord I want to
worfhip thee in spirit & in truth but O my wicked heart I am a great
sinner I need to be washed in the blood of Jefus from head to foot
my [soul?] is in anguifh to day O my Husband & my children parts
of my very self can I bear to see them dishonor God whom I adore
O that they would serve the Lord their God once I could hear some
of them sing & pray but the World has now got the advantage of
them O Father of us all for Jefus sake awake them from their carelefs
& prayerlefs situation to a senfe of their duty
February th 6 1841 all alone
Give ear my children to my word
Whom God hath dearly bought
Lay up his laws within your heart
And print them in your thought
to fear God and keep his commandments is the begining of wisdom. O
Children let this be your study try to serve the Lord when I am dead &
gone & can no more counfel you by word of mouth & may the Lord
direct your steps & keep you
--------------------------------------------------------
Son Warren is found in Broome County, NY
Broome County New York, Leading Citizens, 1800-99
Surname: PENDELL
Given Name: Warren
Birth Date: 18 Mar 1813
Birth Place: Plymouth, Che-nango Co, NY
Parents: Oliver & Hannah (Brooks) Pen-dell
Grandparents: Elisha & Miss (Boynton) Pendell
Marriage: 1. Unknown 2. 1883
Spouse: 1. Eliza Jane Coun-cilman 2. Mary D Goudy d/o Ferris & Han-nah (Dimmick) Hill
Children: 1. 8 children, 7 mentioned 1. Henry-d. 25y 1. Oscar-d. 1. Harriet E-d.50 1. Henrietta 1. Wealthy M 1. Elizabeth 1. Otis B 2. None
Occupation: Retired farmer of Nanticoke
Education: Learned to read & write & cipher
Residence: Whitney's Point, NY
Religion: Methodist