O'Hair Bible Pages
These are Bible pages loose from the Bible, so the date of the
Bible they came from is unknown. It is approximately early to mid
19th century.
Jesse O'Hair and Ella O'Hair and still living in 1880 for the federal
census in Coles County, IL. They have Jesse in at age 82 -- making him
born in 1798 -- not 1828 as in this Bible. Ella is 67 in that document
-- putting her birth supposedly in here -- making her supposedly born in
1813, not 1833. Interestingly, the children's births are consistent
with our Bible pages, making Ella 59 years old when she gave birth to
Evaline in the federal census (and 39 in our Bible pages, I assume
more accurately). What is going on here?

These pages were transcribed by and in possession of Tracy St. Claire,
tracy@stclaire.org.
SURNAMES:
O'HAIR
SWANGO
SKELTON
CRAIG
GAINS
-----------------TRANSCRIPT STARTS-----------------
[Page One -- Family Record]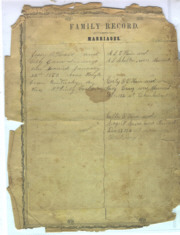 Jessy O'Hair and Elly Jane Swango was married January
22nd 1851 Near Hazle Green Kentucky By Rev. McKinly Cockrill
A L O'Hair and A L Skelton were Married
Cortez B O'Hair and Mary Craig were Married Feb 26 /84
at Charleston Ill
Callie O'Hair and George W Gains were Married Dec 23 /84
at home near Fair Greinge Ill
[Page Two -- Births]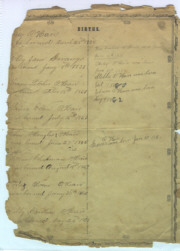 Jessy O'Hair was Borned March 28th 1828
Elly Jane Swango was Borned Jany 8th 1833
Abram Letcher O'Hair -- borned October 18th 1851
Laura Ellen O'Hair was borned July 15th 1853
Stephen A. Douglas O'Hair was borned June 27th 1855
William Chapman O'Hair was borned August 18th 1857
Cortez Boone O'Hair was borned Jany 30th 1860
Libby Caroline O'Hair was borned May 24th 1863
Rosa Evaline O'Hair was born June 10th 1871
Arley O'Hair was born June 23rd 1877
Stellie O'Hair was born Oct 11 1880
Elmer O'Hair was born Aug 9 1882
Grover O'Hair was born Jan 10 /85
[Page Three -- Deaths]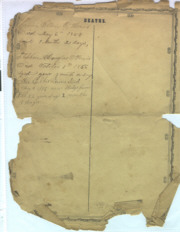 Laura Ellen O'Hair Died May 6th 1854 Aged 9 months 21 days
Stephen Douglas O'Hair Died October 9th 1856 Aged
1 year 3 month 12 days
Mrs Callie Gains died Aug 9 1885 near Ridge farm Ill
22 years of age 3 months 15 days

------------END TRANSCRIPT-------------------------------