Mound Bible
The Holy Bible Containing the Old and New Testaments,
American Bible Society, New York, 1878. Not exactly in
Hills, but many similar editions are.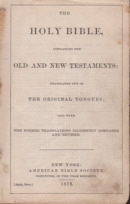 This Bible is in good condition. The binding is is good condition
and all in one piece, but it "unwrapped" from the front of the
book. Minor wear. It is a small Bible (24mo.) and has
the entries in a slip of paper glued to the inside front cover. There
is a clipping from the Youngstown telegram (undated) that has
several of these Mound children in it.
Transcribed by and in the possession of Tracy St. Claire,
tracy@stclaire.org.
SURNAMES:
MOUND
-----------------TRANSCRIPT STARTS-----------------
[Page One -- Inside Front Cover]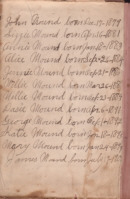 John Mound born Dec. 17 - 1879
Lizzie Mound born Apr. 16 - 1881
Annie Mound born Jan. 18 - 1883
Alice Mound born Sep. 26 - 1884
Jennie Mound born Oct. 21 - 1886
Willie Mound born Mar. 26 - 1888
Nellie Mound born Oct. 23 - 1889
Dasie Mound born Apr. 6 - 1891
George Mound born Oct. 11 - 1892
Katie Mound born Jan. 18 - 1895
Mary Mound born Jan. 24 - 1899
James Mound born July 19 - 1901
[Page Two -- Opposite Page One]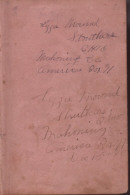 Lizzie Mound Struthers OHIO
Mahoning Co. America Box 71
Lizzie Mound Struthers Ohio
Mahoning Co. America Box 71
Dec 15 1901
[Clipping]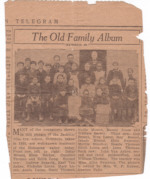 Many of the youngsters shown in this this picture of the
Jacksonville typ. school, Struthers, taken in 1898, are
well-known residents of the Mahoning valley today.
Front row, left to right: Daisy Mound, Elsie Barker,
Caroline Thomas and Edith Long.
Second Row: Andrew Segarik, Karl Van Auker, Nickolas
Lucas, Mary Lucas, Annie Lucas, Susie Thomas, Nellie Mound,
Mamie Jones and William Barker.
Third Row: Guy Boozel, Web Lentz, Ray Boozel, Jennie Mound,
Elsie Sweeney, Myrtle Mincher, Bessie Thomas, Edith Lentz
and Lena Thomas.
Back Row: John Van Auker, second and third unidentified, and
William Thomas. The teacher was Miss Alice Swanson. The
picture is owned by Mrs. W. P. Keyser, Newton Falls.
---------------END TRANSCRIPT----------------