Merrill Bible

Hitchcock's New and Complete Analysis of the Holy Bible:
or, the Whole of the Old and New Testaments...New York,
A.J. Johnson, 1870. It is not really a Bible -- it is more
of a topical index, concordance and history of the Bible.
However, Margaret Hills included it in her English Bibles in
America, so who am I to say? Hills #1868.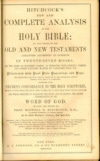 This Bible is in fair condition. The binding is very dirty and
scuffed, with the cloth torn in a few places. The spine detached
but was placed inside the Bible. The inside pages are in good
shape.

Transcribed by and in the possession of Tracy St. Claire,
tracy@stclaire.org.

SURNAMES:
MERRILL
HALL
WINSLOW


-----------------TRANSCRIPT STARTS-----------------

[Page One -- Front Flyleaf]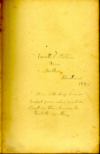 Everett and Nellie.
From
Mother.
Christmas
1886

Thou will keep him in perfect peace whose mind is
stayed on thee: because he trusteth in thee.

[Page Two -- Births]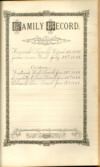 Fenwick Merrill April 2nd 1821
Julia Ann Hall July 24th 1825

Children.
Frederick Hall Merrill Jan. 29th 1855
Elizabeth Ellen Merrill Jan. 29th 1855
Dorcas Ellen Merrill Jan. 15th 1859

[Page Three -- Marriages]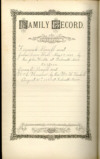 Fenwick Merrill and Julia Ann Hall May 8th 1851 by
Rev. John Wilde at Falmouth Maine

Children.
Dorcas E. Merrill and Wm. E. Winslow by Rev. Wm.
H. Haskell August 30th 1881 at Falmouth Maine

[Page Four -- Deaths]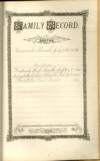 Fenwick Merrill July 14th 1893

Children.
Frederick Hall Merrill Sept. 6th 1856
Elizabeth Ellen Merrill Feb.20th 1858
Dorcas Ellen Merrill Winslow 1962

[Page Five -- Births]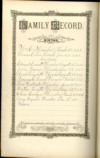 Wm. E. Winslow March 3rd 1859
Dorcas Ellen Merrill Jan. 15th 1859

Children.
Edward Everett Winslow August 16th 1882
Julia Frances Winslow Jan. 17th 1884
Sarah Elizabeth Winslow August 19th 1885
Fenwick Merrill Winslow Feb. 13th 1887
Lois Gertrude Winslow June 20th 1888
Bertha Luette Winslow Aug. 17th 1890
Clara Evelyn Winslow March 10th 1895
Percy Raymond Winslow Dec. 20th 1897
Maurice

[Page Six -- Marriages]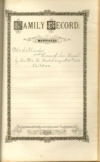 Wm. E. Winslow and Dorcas Ellen Merrill by Rev. Wm.
H. Haskell August 30th 1881


---------------END TRANSCRIPT----------------