Meadors Bible
The New Testament of our Lord and Savior Jesus Christ
translated out of the Original Greek. Philadelphia,
M. Carey, 1816.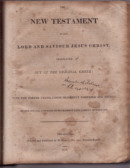 This Bible is in fair condition. Usually the binding is
in worse condition than the pages, but the opposite is
true here. The binding is in pretty good shape. It is
the original binding, with the boards detached (by me)
and a fair amount of leather loss and rubbing.
The pages within are a different matter. The first fully
intact page is chapter VII of Genesis, with all previous
pages absent or mutilated. All other pages in the book
appear sound, with the exception of the all-important
family pages. The first page is nearly gone, and the
second is torn badly. The first page also shows scratching
out of a name.
Transcribed by and in possession of Tracy St. Claire,
tracy@stclaire.org.

Please view these scans carefully before using this
information. It is very difficult to determine the
Meador/Meadors/Meadows usage.
SURNAMES:
MEADORS
THOMAS
LAIRD
MEADOWS
MEADOR
---------------START TRANSCRIPT-------------------------
[Inside Front and Back Covers]
[Page One -- Marriages]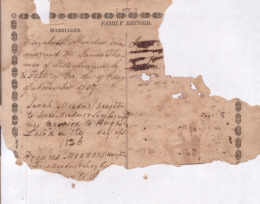 Elizabeth Meador was married to James Thomas of Pittsylvania
Co. & State of Va. the 19th day of November 1817
Sarah Meadors (daughter to Jonas Meadors & Lucy his wife)
was married to Hugh Laird on the [blank] day of [blank]
1826
Francis Meadors (daughter Jonas Meadors & Lucy his
[rest torn away]
[Page Two -- Births and Deaths]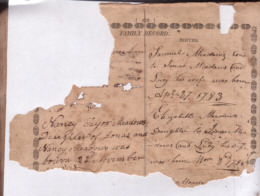 [partial entry, rest torn away]
was born
19th 1770
Nancy Tayor Meadows Daughter of Jonas and Nancy Meadows
was bourn [sic] 22d November [rest torn away]
Samuel Meadows, son to Jonas Meadows and Lucy his wife
was born Apl 27, 1793
Elizabeth Meadows Daughter to Jonas Meadows and Lucy
his wife was born Novr 2nd 1795
[Page Three -- Births and Deaths]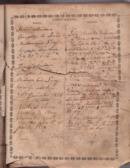 Sarah Meadors Daughter to Jonas Meadors and Lucy his wife
was born July 27th 1804
Franny Meadors Daughter to Jonas Meadors and Lucy his wife
was born 28th December 1808
Martha S. Thomas Daughter to James Thomas & Elizabeth his
wife was Born 12th of March 1819
Sarah Meadows
Lucy Meadors (wife & consort of Jonas Meadors) departed this
life on the 5th day of September 1830 aged 57 years 1 months
and 17 days
Jonas Meadors departed this life the 8th day of April 1834
aged 67 years 11 months & 18 days
Jane Meadors wife and consort of John Meadors Departed this
life on the 17 day of November 18573 [sic]{Aged 40 years 4
months two days}
John Meadors Departed this life the 11 of November 1853
Aged 54 years, two months & 28 days
[Pencilled entry under this illegible]
[Page Four -- Deaths]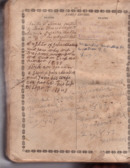 Martha S. Thomas, daughter of James Thomas & Elizabeth his
wife Departed this life on the 17th day of August 1825
Daughter of John Meadows and Jane his wife was Born November
16 and Died on the 23 of November 1838
William Meadors a sun [sic] of John Meadors and Jane his wife
Deaparted [sic] this life Octobr the 11 1848
Maude Pearl Meadors Born November 26 1897

[illegible entry]
[another illegible entry]
Maude Pearl Meadors Born November 26 1897
Maude Pearl Meadors 26 1897 November

------------END TRANSCRIPT-------------------------------