McIntosh Bible
The Self-Interpreting Bible Containing the Old and New
Testaments, Glasgow: Blackie & Son, MDCCCXLII (1842).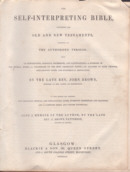 This Bible is in good condition. The inside pages are in
solid condition with minor foxing, and the binding is all
present with the cover detached. It need conditioning.
Transcribed by and in the possession of Tracy St. Claire,
tracy@stclaire.org.
SURNAMES:
MCINTOSH
MCKAW
-----------------TRANSCRIPT STARTS-----------------

[Inside Front Cover]

Donald M'Intosh

[Page One -- Family Register]

Donald McIntosh & Isobell McKaw Espoused in the year
of our Lord July 20th 1838.

Emily their Daughter born June 25th 1839.

Margret their Daughter born July 22nd 1841.

Jannet their Daughter born Septr 22nd 1845.

James their Son born January 12th 1848

[Page Two]

Emily McIntosh their Daughter Departed this life on April
21st the year of our Lord 1843.

---------------END TRANSCRIPT----------------