McChesney Bible

The Holy Bible Containing the Old and New Testaments,
Philadelphia, Kimber and Sharpless, undated, but estimate
around 1830 (K& S published between 1824-1842 or so).

The Bible is in good condition. Original binding intact, although
it has a spine crack and the cover hinging is split. The pages are
all there, although the engraving opposite the OT title page is
badly ripped.
The documents inside this Bible place the family in Butler County,
Ohio, from at least the last half of the 19th century.
Some families store all sorts of ephemera in the Bible, and at first
I thought this was an exception. Upon closer examination, I found
many pieces of cloth inside, as well as a couple clippings and some
torn newspaper scraps, from the civil war.
There are many misspellings and grammar issues in the original. I
did not pepper this transcript with "sic"s, instead, check against scans
of the original at Bible Records Online, http://www.biblerecords.com .
Transcribed by and in the possession of Tracy St. Claire,
tracy@stclaire.org.

SURNAMES:
DEARDORFF
HUNTER
MCCHESNEY
DILLINGHAM
WIKEL
CARTER
HALLER

-----------------TRANSCRIPT STARTS-----------------
[Page One -- Marriages]

Peter Deardorff and June Hunter was married August the 19 1818
John I. McChesney and Maria Deardorff was mariaed January the
31st 1843
Peter D. McChesney & Fannie S. Dillingham ["McChes" crossed out]
was married Jan 30th 1867
David McChesney and Mary Wikel [?] was married Nov ["Oct" crossed
out] 12 Nov 1867
John I. McChesney and Maria McChesney celebrated there Golden
Wedding Jan -- 31st 1893
[Page Two -- Births]

Peter Deardorff was born March the 13 1781
Jane Deardorff was born November the 10 1799
Maria Deardorff was born on Sabath July the 4 1819
Elizabeth Deardorff was born on Satturday June the 29 1822
Peter L. McChesney was born November th12 1845
Laura E. McChesney was born September 9th 1848
Elizabeth J. McChesney was born August 13th 1850
Frank C. McChesney was born March 23rd 1860
Harry Insco [?] McChesney was borne Jan 3rd 1868
Fannie S. McChesney was borne Mar 23rd 1843
Oliver Clyde ["Ellmore Ellsworth" crossed out] McChesney
was borne July 18th 1870
Iola Maude McChesney was borne Oct 1st 1872
Emeline Carter was borne April 2nd 1823 was married June
7th 1840 died February 1st 1847 aged 23 years 9 mon
+ 29 Days
John Dillingham was borne Aug 27th 1817
Daniel D. Dillingham was borne Feb 24th 1845 died March 8th
1864 aged 19 years & 15 days
Martha J. Dillingham was born April 22nd 1841
Emaline Dillingham was borne [too light to read] 11th 1847 was married
Mar 4th 1873
[Page Three -- Births Pinned to Page Two]

Martha Jane Dillingham was born April 22 1841
Sophronia Dillingham was born March 23 1843
Daniel D. Decrain [?] Dillingham was born February 24 1845
Emeline Dillingham was born January 11 1847
John Dillingham was born Aug 27 1817
Emeline Carter was born April 2 1823 was married June 7 1840
[Page Four -- Births]

Martha Maria McChesney was born January 1st 1877
Raymond Haller Was born 30th of June 1900
Mellie Haller born 24th of September 1901
Carlton Anderson McChesney Was born June 1st 1900
Nellie Maud McChesney born September 28 -- 1902
Emma Elizabeth McChesney Was born August 27th 1906
[Page Five -- Deaths]

Elizabeth Deardoff died on friday august the 3 1849 aged 27 yeares
and one month and 5 days
Jane Deardorff died on Sabbeth July 7th 1861 aged 61 years 7
months + 27 days
Peter Deardorff died Oct 26 at 10 oclock in the evening on
friday 1866 aged 85 years 7 months 13 days
Elizabeth McChesney died June [entry not finished]
Laura E. McChesney 6 oclock in evening died April 6th 1875 aged 26
years 6 mon + 27 days
David D. D. Dillingham died Mar 8th 1864 aged 19 years 15 days
Harry I. McChesney died on March 14th A.D. 1870 2 years
2 months and 11 days
David McChesney died December 28th 1891 aged 46 years 1 month
and 16 days
Maria McChesney Died on Friday September 20th 1895 aged 76 years 2
months 16 days
John I. McChesney died 25th [23rd crossed out] day of Aug 1901
aged 82 years 4 months 13 days
Mrs. Martha Haller died 11 day of July 1907 29 years 6 months 11 days
[Page Six -- Cemetary Deed]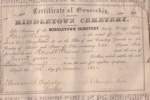 Certificate of Ownership
Middletown Cemetary
The Trustees of Middletown Cemetary hereby Certify That
Peter McChesney is the owner of Lot Number
Two (2) Range Four (4) on the Plat of Said Cemetary Grounds in the
County of Butler and State of Ohio containing 240 Square Feet
for which the said Peter McChesney has paid the sum of
Twenty Four Dollars, which entitles the said
Peter McChesney to use the same for sepulture purposes.
Signed this 7th day of November 1872
William B. Oglesby
Secretary
[another illegible signature]

---------------END TRANSCRIPT----------------