Marsh Bible
These pages were removed from the Bible, and therefore
I cannot date the Bible with certainty. The inscription is
dated 1876, and the record engravings are copyrighted 1873.
They were obtained from a man in New York who pulled
family pages from many Bibles before they were discarded.
These entries are difficult to read and in some cases damaged
by attempted erasing of other entries. Please view the scans
and make up your own mind.
There is also an unidentified CDV of a man, with a Pittston, Pa,
photographer mark, and a flower with a piece of paper reading
"Flower from Mother Marsh's grave". There are also baptism
certificates for Ethel Juliette Marsh and Nathan Aquila Marsh,
who were baptized in Athens, Pa., by Geo. A. Cure of the
Methodist Episcopal Church.
Transcribed by and in the possession of Tracy St. Claire,
tracy@stclaire.org.
SURNAMES:
MARSH
FORD
EMIGH
ELLIS
LONGHER
WHITE

-----------------TRANSCRIPT STARTS-----------------
[Page One -- Inscription Page]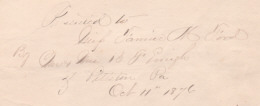 Presented to Mifs Fannie M. Ford
By Mr. & Mrs. B. F. Emigh of Pittston, Pa.
October 11, 1876
[Page Two -- Marriages]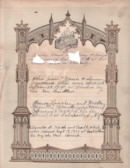 Aquilla Marsh [cut] Mary F. Emigh [cut] married Jan [cut]
1895 at West Pittston [cut] Dr. MacNaulty.
Ethel Julius Marsh & Lynn Edgecombe Ellis were married
October 23 1915 at Elmira Ny by the Rev. Kreidler.
Marion Longher and Nathan Acquilla Marsh were married
January 7 1924 by Rev. D. Herick at Schenectady N.Y.
Aquilla G. Marsh and Pearl E. White were married Sept 18,
1935 at East Athens Pa. by the Rev. Herrick.
[Page Three -- Births]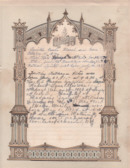 Aquilla Goshe Marsh was born October 14 1871.
Mary Ford Enigh was born Jan. 24, 1876
Ethel Juliette Marsh was born Nov. 18, 1895
Nathan Aquilla was born July 10, 1897
Dorothy Kathryn Ellis was born July 23, 1917 at 9 A.M. at
the A. G. Packer Hospital in Sayre
Robert Lynn Ellis was born 14th day of August [last four words
really blurred] 1920 at Sayre at Prop. D. Hospital at
Marjorie Jannett at Rahway N. Jersey on the 4th of May 1922
Hilda Marilyn was born May 27, 1924 at 10:30 at Sullivan's
Maternity Home in Parkwood Boulevard Schenectady N.Y.
[Page Four -- Deaths]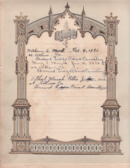 Nathan A. Marsh Feb. 4, 1930 at Athens, Pa. Buried Tioga Point
Cemetary
Mary F. Marsh Jan. 11, 1932 at Athens, Pa. Buried Tioga Point
Cemetary.
Ethel Marsh Ellis June 11, 1932 at Athens, Pa. Buried at Tioga Point
Cemetary
---------------END TRANSCRIPT----------------