Lyon Bible
Submitted and transcribed by Tara Hawkins.

This bible was up for auction on eBay in March 2003. The seller gave permission for the following photograph and transcription to be submitted to this site.

Description:
The Illustrated Family Bible. Containing the Old and New Testaments, etc,etc. With the Self-Interpreting and Explanatory Notes, and Marginal References, of the late, Rev. John Brown, Minister of the Gospel at Haddington. To which is Appended, a Complete Concordance to the Old and New Testaments. Published for the Proprietor, by Smith, Elder, and Co, Cornhill, London, 1838. The bible, which weighs nearly 3kgs, measures 30.5 x 21cms and is hardbound with full leatherbound boards, having gilt decoration and titles. Raised bands to spine, and gilt edged pages. Spine ends splitting. Both covers very marked, and front cover detached.
SURNAME:
LYON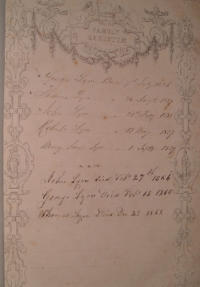 George Lyon Born 7th July 1826.
Thomas Lyon " " 24th Augt 1829.
John Lyon " " 25th July 1835.
Robert Lyon " " 13 May 1837.
Mary Jane Lyon " " 1 Septr 1839.
~ ~ ~
John Lyon died Feb 27 1864
George Lyon died Feb 13 1865
Thomas Lyon died Dec 29 1868