Loyd Bible
LOYD Bible
This Bible was transcibed from the Daughters of the American
Revolution Magazine, Volume XLIX, No. 1, July, 1916, p. 40.
SURNAMES:
LOYD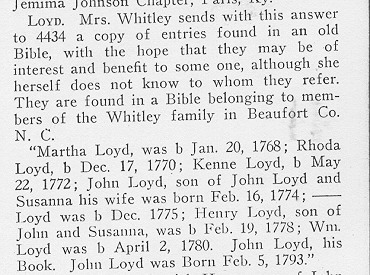 Transcript below verbatim from source but with some reformatting
to make it more readable.
-----------------TRANSCRIPT STARTS-----------------
LOYD.
Mrs. Whitley sends with this answer to 4434 a copy of entries found in
an old Bible, with the hope that they may be of interest and benefit to
some one, although she herself does not know to whom they refer.
They are found in a Bible belonging to members of the Whitley family
in Beaumont Co., N.C.
" Martha Loyd, was b. Jan. 20, 1768;
Rhoda Loyd, b Dec. 17 1770;
Kenne Loyd, b May 22, 1772;
John Loyd, son of John Loyd and Susanna his wife was born Feb. 16, 1774;
--- Loyd was b Dec. 1775;
Henry Loyd, son of John and Susanna, was b Feb. 19, 1778;
Wm. Loyd was b April 2, 1780.
John Loyd, his Book.
John Loyd was Born Feb. 5, 1793."
---------------END TRANSCRIPT----------------