Litle Bible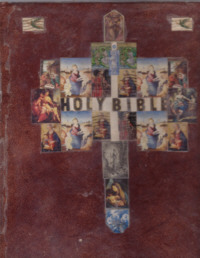 The Holy Bible Containing the Old and New Testaments,
Philadelphia, Jesper Harding, 1856.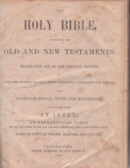 This Bible was rebound sometime -- 20th century, I think,
if the contact paper is contemporary with the rebinding.
The binding was either an amateurish job, or is so thoroughly
covered with the leather-like contact paper, decoupage and
clear contact paper that it looks that way.
This has some neat ephemera in it. A handwritten recipe
note for a Sponge Jelley Cake and a Cream Cake. These
predate measurements and temperatures -- "a piece of butter
the size of 2 hen eggs" it reads in part. Also, hand written
genealogy and a newspaper article titled "Surprised Their
Teacher" (in a nice way).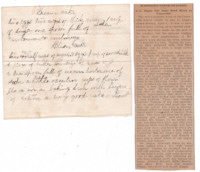 Internet gossip places this family in Washington County,
PA (Rootsweb World Connect).

Transcribed by and in the possession of Tracy St. Claire,
tracy@stclaire.org.
SURNAMES:
LITLE
DEGARMO
LYTLE
CRILE
BAILS
HARTLEY
-----------------TRANSCRIPT STARTS-----------------
[Page One -- Marriages]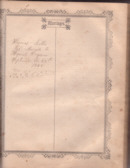 Thomas Litle Was Married to Hannah Degarmo September the
25th 1851
[Page Two -- Births]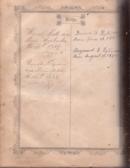 Thomas Litle was Born September the 22th 1828
Hannah Degarmo was Born October the 28th 1832
Lurena B. Lytle was Born June 13, 1878
Raymond E. Lytle was Born August 11 1885
[Page Three -- Births]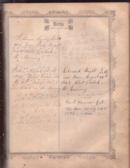 William Conley Litle was Born July the 26th 1852 About 3 oclock
in the Morning
John Albert Litle was Born December the 3th 1853 About 4 oclock
in the Morning
Martin [?] Alexander Litle was Born September the 19th About
3 oclock in the Morning
Henry Nuton Litle Was Born June the 28 1860 About too oclock
in the Morning
Edward Right Litle was Born August 22th 1867 About 9 oclock
in the Evening
David Housman Litle Was Born febuary 25th 1874 11 oclock
in Evening
[Page Four -- Inserted Page]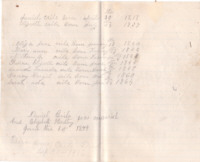 Daniel Crile Born April the 30 1818
Elizabeth Crile Born July the 29 1829
Eliza Jane Crile Born January the 18 1850
Mary Ann Crile Born Febuary the 12 1852
Milton B. Crile Born December the 6 1853
Rebeca Elizabeth Crile Born June the 6 1855
Samuel Leander Crile Born March the 5 1858
Nancy Margret Crile Born Oct. the 8 1860
Sarah Ada Crile Born Jan the 24 1864
Daniel Crile and Elizabeth Hartley was married June the 1st 1849
Eliza Jane Crile Died Sep 30 - 1912
[Page Five -- Reverse of Page Four]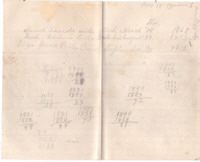 Samuel Leander Crile died March the 15 1862
Sarah Adaline Crile Bails died August 14 1893 Age 29 years 7 months
21 days
Eliza Jane Crile Died September 30, 1912
---------------END TRANSCRIPT----------------