Leeper Bible

This Bible is in fair shape, with the covers off and
an amateurish repair. The Holy Bible Containing the
Old and New Testaments, Auburn, Published by
Alden, Beardsley & Co., 1852.



Currently in the possession of Tracy St. Claire,
.
tracy@stclaire.org

SURNAME:
LEEPER
WINE


---------TRANSCRIPT STARTS HERE-----------

[Page One, Front Flyleaf]



June the 5th 1859 A hard freeze frosted the wheat and
corn and garden vegitations also frost on the 11th June [??]
not doing much damage A. Leeper

[Page Two]



Alexander Leeper and Charity Wine were married
July 5 1832

Robert Leeper Sen was Born March 26 1785
Died October 18th 186

Rosana wife of Robert Leeper Died May 31 1856

George Wine was Born March 9th 1786 and
died August 6th 1870

[Page Three]



Parents

Alexander Leeper Was born June 11 1812
Died December 23rd 1884 at ten minutes past
twelve o'clock a.m.

Charity Wine was born March 6th 1814
Died October 21st 1876 at 91/2 o'clock a.m.

Children

Mary J. Leeper was born May 26th 1833

Robert W. Leeper was born November 29th 1835

[Page Four]



William B. Leeper was born November 4th 1837
Died November 15th 1837

George W. Leeper Was born February 25th 1839
Died June 4th 1840

Martha A. Leeper was born April 19th 1841

John A. Leeper was born October 21st 1843

David P. Leeper was born February 28th 1846
Died September 1st 1855

Elizabeth A. Leeper was born July 11 = 1848
Died February 28 = 1849

[Page Five]



Infant Son was born Nov. 18 = 1849
Died November 22nd 1849

Eliza M. Leeper Was born December 26th 1850

Rosanna Leeper Was born May 9th 1853

Edward S. Leeper was born January 13th 1858

[Extra Items]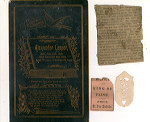 Rememberance Card [cabinet card]

Alexander Leeper
Born June 11th, 1812
Died December 23d 1884
Aged 72 years, 6 months, 12 days

"Blessed are they who die in the Lord."

Obituary [Newspaper Clipping, unattributed]

Death of Alexander Leeper

Mr. Alexander Leeper died at this home, 285
Underwood street, last night at 12 o'clock, after
a long sickness, aged 72 years. Mr. Leeper was
born in Washington Co., Pa. He emigrated to
Guernsey county, Ohio at an early day and was well
and favorably known throughout that county as
an active Christian gentleman. He came to Zanesville
about twenty years ago. Here he worked for a long
time at his trade -- a jeweler -- but was better known
throughout the country as the proprietor of Leeper's
Linament, having been engaged in manufacturing and
selling that remedy for many years. He was a member
of the M. E. Church, and an active and consciencious
worker in the Master's cause. The time of the funeral
will be made known.
[I have scanned the additional ephemera as well. There
is so much character in this Bible, and these pieces tell
a lot about what the family was interested in, or found
funny. The piece of a label, price $1.00, I believe in a
remenant of a label that was on "Leeper's Linament" --
see the obituary.]

-------------END TRANSCRIPT------------