Lear Bible
The New Testament of Our Lord and Saviour Jesus Christ,
Translated out of the Original Greek...Oxford: Printed
at Clarendon Press, by W. Jackson and A. Hamilton,
MDCCLXXXII (1782).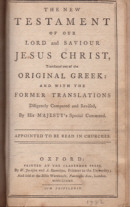 This Bible is in good condition overall, having been rebound
and not touched much since. The title page as well as other
pages are missing, so the above is from the NT title page.
Some pages at the very front and very back are torn, thus
incomplete.
I assume that some missing pages contained more genealogy
of this family.
Transcribed by and in possession of Tracy St. Claire,
tracy@stclaire.org.
SURNAMES:
LEAR
ROWELL
---------------START TRANSCRIPT-------------------------
[Page One -- Front Flyleaf, not original to Bible]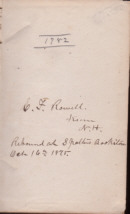 ____
1782
C.F. Rowell
Keene N.H.
Rebound at Spartus Bookstore
Oct 16th 1875
[Page Two -- Reverse of NT Title Page]
goshen April 10 day
Tobias Lear was born the third day of April
about four and forty moments after four on
thursday 1794
Mercy Lear was born the fourteen day of September
on Wednesday six oclock 1796
Gideon Lear was born thee twenty third day of
January about half after twelve oclock on tuesday
1798
Joseph Lear was born the 20 day of july 1800
on monday
Polly Lear was born the 18 day of august 1803
thursday

------------END TRANSCRIPT-------------------------------