Jordan Bible
This Bible was submitted by Jan Jordan Lokensgard.
The Bible belonged to my Great-Great Grandmother, Rosanna Hebner Jordan Berry. Rosanna was married to William Jordan abt 1850 in Ontario, Canada. They had 5 children and were divorced. Rosanna later married James Berry and had 2 daughters. They moved from Ontario, Canada to Scotland, South Dakota. The Bible ended up in the possession of a grandson (Charles Grimes Jr, Stockton, CA) of one of the daughters, Maria Berry Grimes). The last I heard, he had passed away and his wife. Mary, had the Bible and was going to give it to her daughter, Antoinette Grimes Cummings who lives in California).

I heard from a distant cousin who also does genealogy research, that she had tracked down the descends of Rosanna Berry's daughters and found out about the Bible and an old photo album. There are also some photos in the Bible which are included here. I eventually called Mary Grimes in Stockton, California and asked her if she would take it to a place that could scan both the Bible and the photo album. She said it was very fragile, but she did do it and that is how I received them. I have never seen the Bible in person.

I eventually was connected, via email, to (Don Porter, Michigan) a descendant of the brother of Rosanna whom I shared the photos with and he gave me copies of about 10 old letters from Rosanna's mother from the 1800's. Through this we have been able to identify some of the people in the photos. Rosanna's marriage license to James Berry is in the Bible. There are two of them, one with her maiden name, Hebner, and one with her married name of Jordan. I did some checking and back then most people didn't get a legal divorce in Canada. It was rare.

SURNAMES:
JORDAN
BERRY
HEBNER
GRIMES
-------------------Associated Files --------------------------
The Bible Cover

Marriage Certificate for James Berry, of Petrolia, Ontario and Rosanna Jordan, of Bothwell, Ontario on 20 July 1867 in Port Huron, Mich.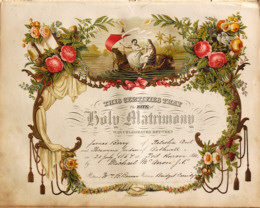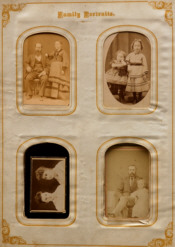 Top Left: Daniel and Catherine (McQueen) Hebner
Top Right: Daniel and Catherine's daughters, Ida Hebner and Mae Hebner (Porter)
Bottom Left: Mae and Ida as teenagers
Bottom Right: James Berry and daughter Selena

Unknown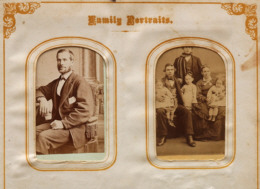 Upper left and right, two sons of Rosanna's from her first marriage, Daniel Jordan and Henry Patrick Jordan.
Lower left, Rosanna Hebner Jordan Berry. Lower right, another of the same photos of James and daughter Selena.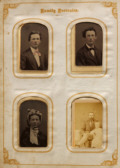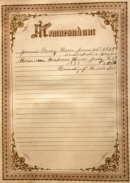 James Berry, Born June 23, 1835, Warwickshire, England;
Rosanna Hebner, Born July 27, 1837, Township of Brockton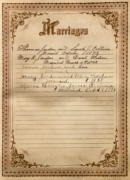 Thomas Jordan and Sarah J. Collins, married October 1873.
Mary E. Jordan and David Watson, married March 4, 1873
James Jordan and Cora married
Henry Jordan and Mary Gordan, Married 1885
Maria Berry and James Grimes married Oct 2 1889

Marriage certificate for Maria Berry, daughter of Rosanna and James Berry, to James T. Grimes, October 1, 1889 in Hutchinson City, SD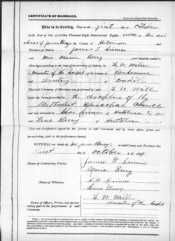 Marriage Certificate for James Berry, 34, of Petrolia, Ontario and Rosanna Hebner, 30, of Bothwell, in Canada, on 20 July 1867 in Port Huron, Michigan. I believe that there are 2 marriage certificates for Rosanna and James to indicate that Rosanna was known by both names.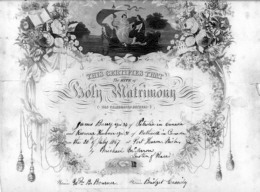 --------------------------------------------------------------
Extra images