Johnston Bible

This bible was up for auction on ebay in February 2003. The seller gave permission for the following photographs and transcriptions to be submitted to the site.
Transcribed by Tara Hawkins.
Description:
Antique 1885 Leather Family Holy Bible. NEWLY REBOUND!!!! CONTAINING THE OLD AND NEW TESTAMENTS, DR. WILLIAM SMITH.THE OLD KING JAMES VERSION AND THE REVISED VERSION ARRANGED IN PARALLEL COLUMNS FOR CONVENIENCE IN REFERENCE. APOCRYPHA AND PSALMS IN METRE, WITH DR. WILLIAM SMITH'S STANDARD BIBLE DICTIONARY. It has a sculptured Leather Cover with worn ornate gold stamping. This Bible is in excellent shape for the age. The cloth hinges are intact, and the end sheets of textured pressed paper are not worn. Some pages torn. There are many illustrations, and many are in color. Some are full-page engravings, and some appear to be hand watercolored. The "Family Record" pages appear to have been written on by original family owners. The full-page illustrations appear to have all have tissue overlays. Measures 10.5" wide X 12.5" tall X 5" thick, (approximate).
Rootsweb puts the birth of Zelma in Illinois, and her marriage in Iowa [TSC].
SURNAMES:
ADUMS
BAKER
JOHNSON
JOHNSTON
SALTS
--------------------------------------------------------------------------------------
Presentation Page
This certifies that
Mr. Daniel J. Johnston
and Miss Eether[Esther?] Village [Millage?]
Were married
At Cambridge on October 12,1881
J. Collins -minister -
In the presence of James Johnston and Abigail Johnston.

Pg 1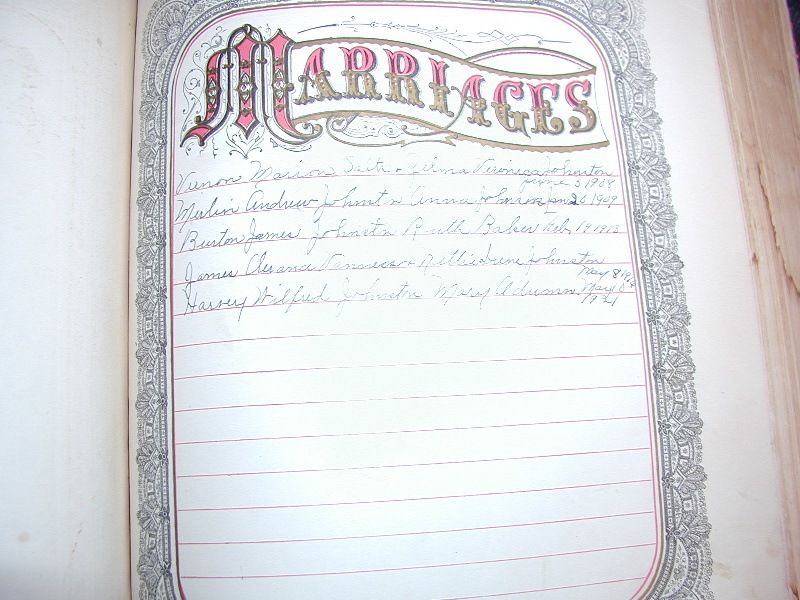 Marriages
Vernon Marion Salts & Zelma Veronica Johnston Jun 5 1908
Merlin Andrew Johnston & Anna Johnson Jan 20 1909
Burton James Johnston Ruth Baker Feb 19 1913
James CleranceVanness Nellie Irene Johnston May 8 1914
Harvey Wilfred Johnston Mary Adums May 10 1921

Pg 2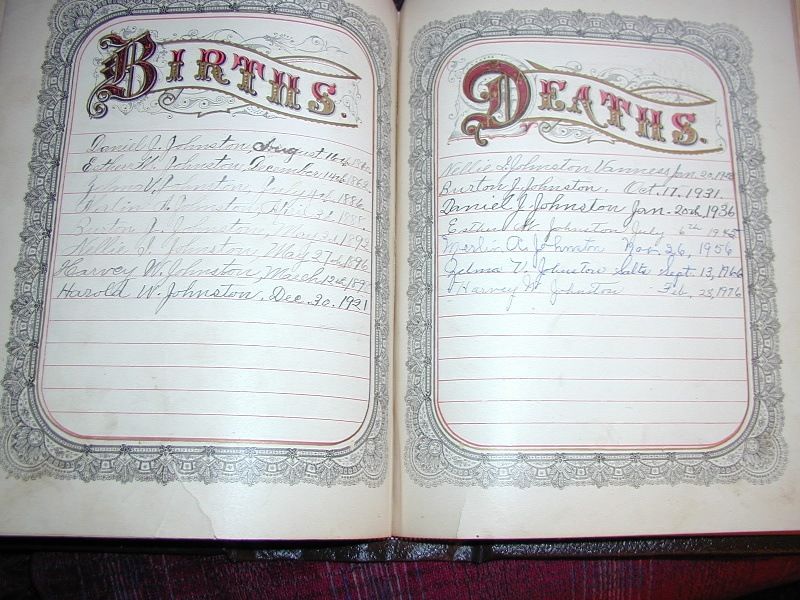 Births
Daniel J. Johnston August 16th 1860
Esther M Johnston December 14th 1862
Zelma V. Johnston July 4th 1886
Merlin A. Johnston April 3d 1888
Burton J. Johnston May 3d 1892
Nellie I. Johnston May 27th 1896
Harvey W. Johnston March 12th 1898
Harold W. Johnston Dec 30 1921
Deaths
Nellie I Johnston Vanness Jan 20 19..?
Burton J. Johnston Oct 17 1931
Daniel J. Johnston Jan 20th 1936
Esther W. Johnston July 6th 1945
Merlin A. Johnston Nov 26 1956
Zelma V. Johnston Salts Sept 13 1966
Harvey W. Johnston Feb 28 1976