Irwin Bible
The Holy Bible Containing the Old and New Testaments,
Auburn, Derby and Miller, 1852. Not in Hills. Hills
lists no publisher of "Derby and Miller", but Auburn
New York is/was home to several other Bible publishers.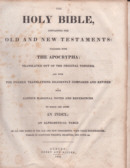 This Bible is in fair condition. The spine is missing,
but the boards are attached and in OK condition. All
pages appear to be present, except the first family
record page that usually has marriages and births.
There is an envelope addressed to Mrs. T.L. Irwin, Nalick
Mass. care of T. L. Irwin Esq. It is postmarked from
Florence Mass Aug 27, '91 (1891) and is empty.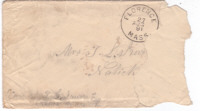 Transcribed by and in possession of Tracy St. Claire,
tracy@stclaire.org.
SURNAMES:
IRWIN
LAW
---------------START TRANSCRIPT-------------------------
[Page One -- Family Record, Births & Deaths]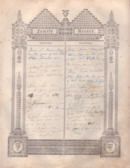 Jane E. Irwin born in the year of our lord 1840 November 15
Saragh Jane Law Born in the year of Our lord 1858 Dec 25
Wilm Law Born in the year of Our Lord August 26 1819 [or 1849?]
Thos Irwin Born in year of Our Lord 1852 June 10th
Beckwid [?!?] Irwin Born in the year of our Lord 1854 Feb 17
Jane Irwin Born in the year of Our Lord 1857 August 8th
Jane Irwin Departed this life in the year of our Lord 1845
December 2
Thos Irwin Departed this Life in the year of Our lord 1849
July 18
Wilm Irwin Departed this life in the of [sic] Our Lord 1857
December 10 aged 31 yrs and 4 months
Saragh Jane Law Spirit Left us for to join that happy
company around the throne of god in heaven on the 25 day
of Octb in the year of our Lord 1860 [?]
[Page Two -- Family Record, Births & Deaths]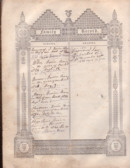 Frances [?] J. Irwin Born in the year of our Lord 1822 Octb
14 in Irvinestown
Wilm Irwin Born in the year of Our Lord 1824 Augst 12th
in Irvinestown
James Irwin Born in the year of our Lord 1826 May 9 in
Irvinestown
Mary Irwin born on the year of our Lord 1834 Augst 14 in
Irvinestown
Prudance Irwin Born in the year of Our Lord 1836 July 16 in
Irvinestown
Eliza Jane Irwin [or Irvine] Born in the year of Our Lord
1840 Nov 15 in Moneytree
Born 1820 Frances J. Law Departed this Life December 29th 1891
aged 71 yrs
------------END TRANSCRIPT-------------------------------