Ireland Bible
This Bible was up for auction on eBay in March 2003. Seller granted permission to submit transcription and photographs to this site.
Transcribed by Tara Hawkins.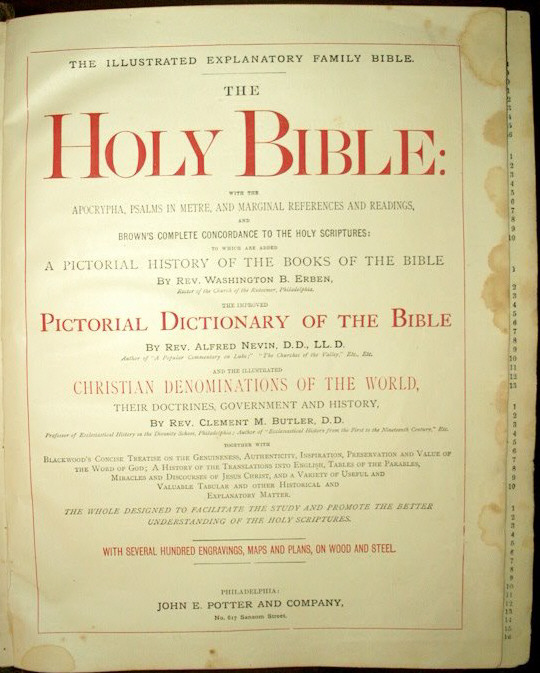 Description:
An absolutely beautiful, extra large, circa 1860s - early 1870s Family Bible from Nova Scotia, Canada, containing the record of marriage between Mr. William Ireland and Ms. Elizabeth Gray - dated 1872. The complete title is : "The Illustrated Explanatory Family Bible: The HOLY BIBLE with the Apocrypha, Psalms in Metre, and Marginal References and Readings, and Brown's Complete Concordance to the Holy Scriptures; to which are added A Pictorial History of the Books of the Bible by Rev. Washington B. Erben, the Improved Pictorial Dictionary of the Bible by Rev. Alfred Nevin, and the Illustrated Christian Denominations of the World, Their Doctrines, Government and History by Rev. Clement M. Butler. Together with Blackwood's Concise Treatise on the Genuineness, Authenticity, Inspiration, Preservation and Value of the Word Of God; A History of the Translations into English; Tables of the Parables; Miracles and Discourses of Jesus Christ; and a Variety of Useful and Explanatory Matter. The Whole Designed to Facilitate the Study and Promote the Better Understanding of the Holy Scriptures.".
Published by John E. Potter, Philadelphia. No date indicated - judging by the date on the marriage certificate in the Bible, and by the types of fonts and paper used, it can be dated anywhere between 1850s and early 1870s. Overall GOOD condition. Oversized thick hardcover binding - full leather, embossed and hand-tooled, with gilt title on front and back covers and the spine richly decorated with gilt. Rubbing to the binding, extensive wear to edges and corners. The binding is reasonably tight, well in one piece, with no hinge cracks and firmly attached to the book. A couple of loose pages but no torn or missing pages - all pages are present. About 1500 pages in total (multi-paginated); beautiful illustrations throughout. The book measures approx. 12 1/2 by 10 by 3 3/4 inches and weighs 4.5 Kg (about 10 Lbs).

SURNAMES:
GRAY
IRELAND
---------------------------------------------------------------------------------------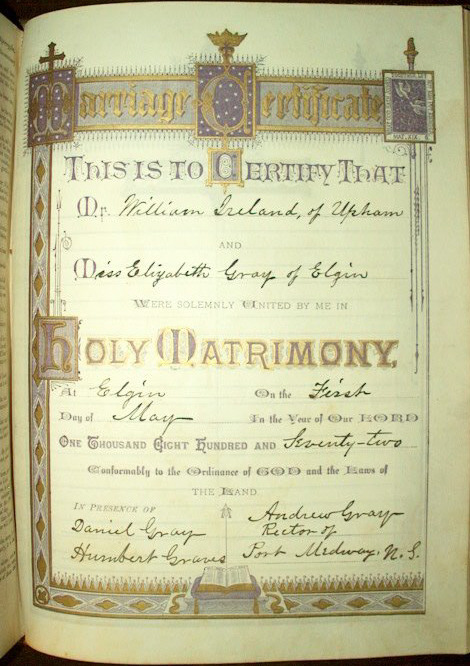 Marriage Certificate
This is to Certify that
Mr William Ireland of Upham
And
Miss Elizabeth Gray of Elgin
Were solemnly united by me in
Holy Matrimony
At Elgin on the First
Day of May in the Year of Our Lord
One Thousand Eight Hundred and Seventy-two
Conformably to the ordinance of God and the Laws of
The Land

| | |
| --- | --- |
| In Presence of | Andrew Gray |
| Daniel Gray | Rector of |
| Humbert Graves | Port Midway N.S. |