Hollister Bible Pages
These pages were separated from the Bible, so the
date of the Bible is unknown. They appear to be
late 19th century.
There is a lot more detail in this record than is normally seen.
This family really travelled around a LOT. The daughter
Zilpha died around noon on Oct. 19th in Crystal Falls,
Michigan, and was buried in Tomah Wisconsin -- with
services, mind you -- on Oct. 22nd. Granted, Crystal Falls
is in Michigan's UP, but that still had to be 75-100 miles
per day, in 1890.
Solomon C. Hollister appears in PA in the 1910, 20 and 30
censuses. He appears to have died in July 1982, in Ithaca,
Tomkins County, New York, according to the Social Security
death index. Ada died in the same town in 1993 (making her
nearly 100 years old). His wife, Ada, and three children, John
(b.abt. 1921), Mary (b. abt. 1923) and David G. (b. abt. 1926)
appear with him in the Delaware County, PA, 1930 census.

Transcribed by and in the possession of Tracy St. Claire,
tracy@stclaire.org .
SURNAMES:
HOLLISTER
RUNKEL
JONES
GARBER
WILLIAMS
-----------------TRANSCRIPT STARTS-----------------
[Page One -- Marriages]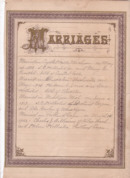 Married in Crystal Falls, Michigan on May 1st 1883 S.D. Hollister Jr.
and Mary E. Runkel -- both of Crystal Falls.
Married in Clarkston, Washington on May 1 - 1906 Hudson G. Jones
and Ione [?] Hollister -- both of Clarkston.
Married in Muskegon Mich -- on June 2 1919 S. C. Hollister of Portland
Oregon and Ada Garber of Muskegon
Married in Portland Oregon -- on March 14 1923 -- Charles J. Williams
of Kelso Wash. and Helen Hollister -- Portland Oregon.
[Page Two -- Births]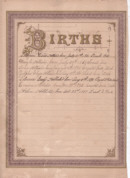 Solomon Davis Hollister born July 31st 1861 Tomah Wis.
Mary E. Hollister born July 29th 1863 Tomah Wis.
Ione Hollister born Jan'y 24th 1884 Crystal Falls Mich
Zilpha Eliza Hollister born Aug 19th 1886 Rapid City Dak ["S" written above,
probably later]
Solomon Cady Hollister born Aug. 4th 1891 Crystal Falls Mich.
Emeline Hollister born Nov. 29, 1892 Crystal Falls, Mich.
Helen Hollister born Oct. 22nd 1897 Lead S. Dak.
[Page Three -- Deaths]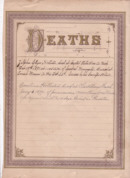 Zilpha Eliza Hollister died at Crystal Falls Iron Co. Mich Oct 19th 1890
at 11.45 A.M. of Cerebral Menengitis. Buried at Tomah Monroe Co Wis
Oct 22d. Services by her Grandpa Hollister.
Emeline Hollister died at Clarkston Wash. Jany 2 1899 of pneumonia
resulting from Measles. Age 6 year 1 month and 4 days. Buried in Clarkston.
[Page Four -- Memoranda]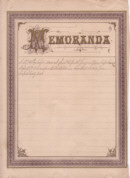 S. D. Hollister Jr. sawed third and fourth fingers from left hand Sept 29th
1886 with a Lath Bolter, in Saw Mill 15 Miles from Rapid City Dak.
---------------END TRANSCRIPT----------------