Hinnerschitz Bible Pages
These pages were separated from a Bible, so the exact
date of the Bible itself is unknown. Late 19th century
seems about right.
This is a beautiful example of gilded Fraktur. I think
Hainbach might be the scribener.
Transcribed by and in the possession of Tracy St. Claire,
tracy@stclaire.org .
SURNAMES:
HINNERSCHITZ
PAUTSCH
EGE
GIGCKER
SCHAADE
ELTERN
------------------START TRANSCRIPT------------------------
[Page One -- Marriage Certificate]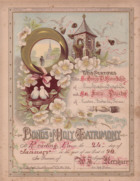 This Certifies That Mr. George W. Hinneschitz of Lom Heidelberg,
Berks Co, Pa. and Mrs. Sara Pautsch of Centre, Berks Co, Pa.
were united by me in the Bonds of Holy Matrimony
at Reading Pa. on the 24th day of
January in the year of our Lord 1890
Signed
W. F. Kershner
Ed. Ref. Pastor
Berks Co, Court License Vo, 6, No. 118.
[Page Two -- Family Record]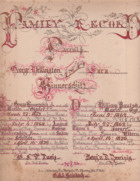 Family Record
Parents
George Wellington and Sara
Hinnerschitz
Son of George Hinnerschitz Jr. and wife
Matilda nee Gigcker Born on
March 27th, 1859 in Lom Heidelberg,
Berks Co, Pa, U. S. of N. A.
Bapt. July 4th, 1860 by August
Pauly, ev. ref Past. Spons's: George
Hinnerschitz, Senr. and wife Susanna,
nee Schaade, Grandparents
Conf.: April 16th 1876 in St. John's
Church, Sinking Spring, Spring Tp, Berks-Co
Pa by Rev:
W. F. P. Davis
Ev. Ref. Pastor
Daughter of William Pautsch
and wife: Marin, nee Ege,
Born: Juni, 9th 1862, in
Centre Berks-Co, Pa. U.S. of N. A.
Bapt.: July 27th 1862, by
Thom's T. Jaeger
ev. luth. Past. Spons's: *Eltern
Conf.: April 14th 1876, in
Bellemans Church, Centre-Tp
Berks Co, Pa by Rev.:
Benj'n D. Zweizig
Ev. Luth. Pastor
(*Parents)
Lom-Heidelberg Tp, Berks Co. Pa, Thursday Feb. 5th 1891.
G.A.S. Hainbach
[Page Three -- Deaths]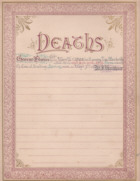 George Edwin Died: May 2nd 1900 in Cumry Tp. Berks Co Pa
(Trill P.O.) aged 9ys 9 mth 27ds. iterm: en. ref.
Ch. Cem. at Sinking-Spring, mon. May 7th W. F. Kershner
Pastor.
[Page Four -- Memorandum]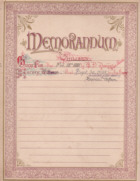 Children
George Fom.: [?] Bapt.: Feb. 18th. 1881. by B.D. Zweizig,
Sps. Parents.
Harvey William: Bapt.: Sept. 30. 1898 by Rep. George
en. ref. Past. 3rd St. Reading. Spons's: Mother.
------------------------END TRANSCRIPT-------------------------