Hills Bible
Die Bibel oder Die Ganze Heilige Schrift des Alten und
Neuen Teftaments, Philadelphia, Georg W. Menz, 1829.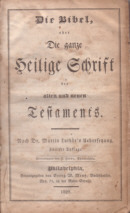 The Bible is in good condition. The original binding is
intact with some spine chips and wear. All pages appear
intact, but they are tanned with some foxing. Several
pages are dogeared, and one is torn.
Misspellings below and various spellings of the surnames
are in the original.
Transcribed by and in the possession of Tracy St. Claire,
tracy@stclaire.org.
SURNAMES:
HILLS
BENIT
BENNET
WALTER
HILL
-----------------TRANSCRIPT STARTS-----------------
[Page One -- Front Flyleaf]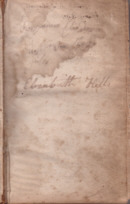 R. James [rest too faint to read]
Elizabeth Hills
[Page Two -- Reverse of Page One]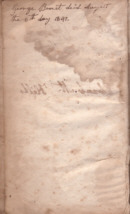 George Benit died August the 6th day 1842
[Page Three -- Back Flyleaf]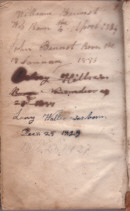 William Bennet Was Born the 4 April 1834
John Bennet Born the 13 January 1836
Betsey Hills was Born November 29 1844
[this entry is crossed out]
L[XX]y Walter was born Decr. 25 1827
Dec. 25 1827
[Page Four -- Back Flyleaf]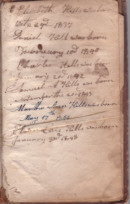 Elisabeth Hills was born Oct 29d 1837
Daniel Hill was born Februuary 10d 1840
Charles Hills was born January 20d 1842
Samuel A Hills was born November the 20d 1843
Martha Ann Hills was born May 17th 1846
Edwin Luis Hills was born January 30d 1848
---------------END TRANSCRIPT----------------