Highley Bible
The Holy Bible, Containing the Old and New Testaments,
Philadelphia, John Potter and Company, undated.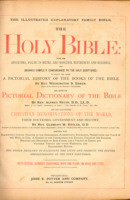 This Bible is in fair to poor condition, with the rear board missing
and the front board detached. The spine is intact with slight
loss to top and bottom. Some page loss at the end -- last page
is the UND page of the Concordance (not numbered).
Late 19th century luxury family Bible.
This family Bible is filled with completed family pages (detached)
and other family notes, family photos, ephemera and a letter. I love
Bibles like this -- it really gives a glimpse of the family itself and
not just sterile dates.
Transcribed by and in the possession of Tracy St. Claire,
tracy@stclaire.org. It was rescued and sent by Ann Shirkley
of Cupertino California (Thanks again, Ann!). It will be returned
to a direct descendent of this family, and there must be several.
In 1900, in Atlantic Township, Cass County, IA, Emily W. Scott
is living with Thomas Scott who I assume is her new husband.
He is 59, she is 57, they have been married for 15 years. He was
born in Iowa, she in Indiana. In the household with them are sons
Samuel Highley -- age 22 (father Henry was born in Pennsylvania
by this record), Elmer, age 18, and daughter Edith Scott age 7,
daughter of Thomas and Emily. The son George Highley, along with
his wife Laura and an unnamed baby live just a few households
down. Later censuses show at least two daughters to George and
Laura --Ruby and Lois.
Interesting in a creepy way, Elmer died in Texas on Nov 20, 1963 and
included in this Bible is a letter from his funeral home in Texas dated
Nov 23, 1963.
SURNAMES:
HIGHLEY
SCOTT
HARRINGTON
TROTTER
-----------------TRANSCRIPT STARTS-----------------
[Page One -- Family Record Births]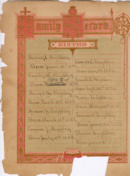 Henry C. Highley
Born June 15th 1840
Alonzo C. Highley
Born Aug 3th 1869
Emily W. Highley
Born Apr 3rd 1843

Frank B. Highley
Born Sept. 30th 1870

Mary Etta Highley
Born March 13th 1863
George Highley
Born May 28th 1875
Hiram G. Highley
Born March 17th 1865
Samuel Highley
Born June 26th 1878
Emma J. Highley
Born July 13th 1867
Elmer Highley
Born June 2st 1881
[Page Two -- Family Record Deaths]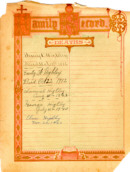 Henry Highley
Died Oct 13th 1881
Emily W. Highley
Died Oct 22 1912
Samuel Highley
Aug 31 1923
George Highley
July 11 1940
Elmer Highley
Nov 20, 1963
[Page Three -- Certificate of Church Membership]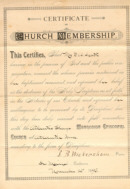 This Certifies That Mrs. E. W. Scott [Emily W. Highley
remarried? ed. note] having, in the presence of God
and the public congregation, renewed the solemn promise
contained in her baptismal covenant, and expressed her
belief in the doctrines of the Holy Scriptures as set forth
in the Articles of ur Church and expressed her willingness
to be governed by its Discipline, has this day been duly
received into full connection with the Atlantic Charge
Methodist Episcopal Church at Atlantic Iowa according
to the forn of Discipline.
L. B. Wickersham, Pastor
Des Moines Conference
November 26th 1893
[Page Four -- Note of ages? and dates]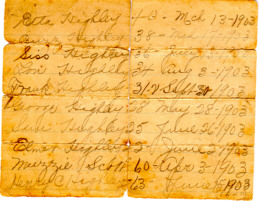 Etta Highley 40 Mch 13 1903
Buzz Highley 38 Mch 17 1903
Siss Highley 36 July 13 1903
Lou Highley 34 Aug 3 1903
Frank Highley 31 Sept 30 1903
George Highley 28 May 28 1903
Suse Highley 25 June 26 1903
Elmer Highley 22 June 2 1903
Muzzie Scott 60 Apr 3 1903
Henry C Highley 63 June 15 1903
[Letter]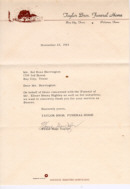 Taylor Bros Funeral Home
1300 West Seventh Street
Bay City, Texas
November 23, 1963
Mr. Sul Ross Harrington
1709 3rd Street
Bay City, Texas
Dear Mr. Harrington:
On behalf of those concerned with the Funeral of Mr. Elmer
Henry Highley as well as for ourselves, we want to sincerely
thank you for your service as Bearer.
Sincerely yours,
Taylor Bros. Funeral Home
Frank Shaw Taylor
[Letter -- Formatted, Left the Spelling the Same]
Dexter, March 10th 1879
Dear Friend
Miss Highley
i write you these few lines to let you know that i am well
and hope these few lines will find you in the same
i got home save and found the folks all well and glad to
see me i am living at Mr cooks now they seem to be
nice people they want me for 8 months if i stay she gives
me two dollars a week well i told you i would tell you what
presents i got mother gave me three aprons and a pair of
cuffs and some more little presents but i did not get any
dress sally meet me in stewart she had on her fine green
dress and shawl but i would sooner have any own than
hers they wanted to know where my somers work wor
i told them i bust it on my back then they said NO more to
me a bout money
i told them i was going back to see you in the fall i think i
will if all does well till then let me know how jenie gets a long
write and tell me of the good times you have my times is
very dull out here but i hope they will soon pan[?] a way
give my love to Mr Highley and Hiram sir loving and kiss
frank for me and keep a share for your self i will close for
this time[?] i am getting sleepy and feel lonely Dont fail
but write soon
from Lizzie Trotter to her kind friend Emily Highley
Friend Etta I will Write you a short and sweet letter to let you
know I am well and hope to here from you soon Etta i often
think of you there in No girls where i am there is one little
boy he makes me think of Hiram a great deal
do you go to fulton any Now tell me if they are going to
have Sunday School there this somer dont forget the good
old times you and i have had in time gone
I past i often wish i could see you but it is all in vain give my
love to Jemer and Joe and her Write me a long finey[?]
letter and then i will write you one tell me who your fellow is now
and who comes to see you and Who is Jemie bean and some
funy Marries three [???] i will tell you some i will close for this
time and wont till i here from you be sure to write to me back your
letter
Eliza Trotter
Dexter Dallas County
Iowa box no 40
from Eliza Trotter to her friend
May Etta Highley
pass over this for writing
[Pictures]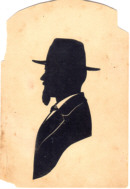 The reverse of this silhouette reads Father of E. H. Highley
Henry C. Highley Born June 15 1840 Died Oct 13 1881
Souvenir
Cincinnati Industrial Exposition
1879
Cut in ? Hall Julian White, Silhouette Artist
Front and reverse of a photo of Emma J. Highley and Elmer Highley in 1959?
From the notation on the back, Frank is also still alive in 1959?
Photos of Frank, Etta & Siss, Lou & Buzz. This loose photo is the missing "Etta" photo?
Olmsted Ferrotype Gallery Davenport, Iowa.
Photo of Buzz. Next to Buzz was a slot for a carte de viste labelled Etta. The little girl photo was loose and
may be her. Buzz = Miller & Co Davenport IA. Girl = F.B. Dowd Davenport, IA with tax stamp (~1860s)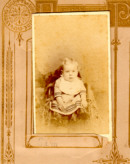 Photo of Sam. G. Dahms, Davenport, Iowa.
Unidentified woman. Hastings, White & Fisher (Davenport).

---------------END TRANSCRIPT----------------