Hawkins Bible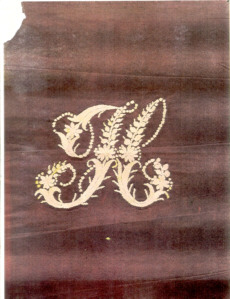 Bible Bookmark --Burgundy/Red satin - embroidered in pale pink silk - done by Jennie Allen Hawkins
These Bible pages and related information were submitted
by Louise Paige, who had these copies in her possession.
The notes written by her cousin, and letter #1 was in the Bible.
There is a lovely ornate embroidered bookmark copied along
with these notes.
Transcribed by Tracy St. Claire, tracy@stclaire.org.
SURNAMES:
HAWKINS
ALLEN
HERRON
SHERRARD
WELCH
CHISM
-----------------TRANSCRIPT STARTS-----------------
[Page One -- Marriages]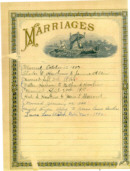 Married October 13 1887
Charles W. Hawkins to Jennie Allen
Married Sept. 3rd 1916
Walter Herron to Bertha A Hawkins
Married April 29th 1918
Hal S. Hawkins to Jessie Sherrard
Married January 29, 1944
Harold Bruce Welch to Jenna Louise Hawkins
Laura Lane Welch Born Nov 4 1946
[Page Two -- Births]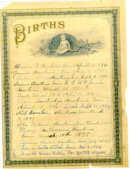 Charles W. Hawkins born April 13 1854
Jennie Hawkins born Aug. 11 1858
Bertha Allen Hawkins born Sept. 19 1888
Twins Brothers born to C.W. & Jennie Hawkins March 28, 1891
Died March 29 & Apr. 13 1891
Charles Trowbridge Hawkins born April 12 1892 Died Sept 21, 1964
Hal Sinclair Hawkins born March 4, 1894
Ida Gertrude Hawkins born March 9 1896
Mary Katharine Hawkins born March 14th 1898
Jenna Louise Hawkins, born July 24, 1919
Laura Lane Welch, born Nov 4 1946
Harold Bruce Welch " Nov. 11-1912 - 62 years
[Page Three -- Deaths]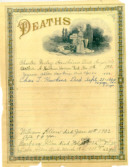 Charles Wesley Hawkins Died Aug 16 1897
Bertha A. Hawkins Herron Died Nov 11th 1918
Jennie Allen Hawkins Died Apr 26 1928
Chas. T. Hawkins Died Sept 21 - 1964 72 years 5 mo 9 Days
William Allen died Jan 31st 1902 Age 84 yrs
Barbara Allen died Feb. 13th 1902 age 79 yr.
Gabe Allen died March 18 - 1905 age 62 yr.
[Page Four -- Notes]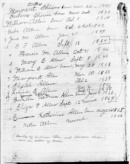 Births
Margaret Chism born Mar. 26 - 1791
Barbara Chism born Mar. 3rd 1823
William Allen born Feb 5 1819
1. Gabe Allen born Oct 6 1842 dead
2. Jno. M Allen " Jan. 25 1844
3. B. F. Allen " Sept. 12 1864
4. Francis M. Allen Oct 31 1846
5. Mary E. Allen Sept 8 1848
6. William B. Allen born May 28 1851
7. Margaret Allen " Mar. 18 1853
8. Elijah Allen " Feb. 2 1855
9. Louisa E. Allen " Nov. 2 1856
10. Jennie Allen " Aug. 11 - 1858
11. Rovilla Victoria Allen born June 4 1860
12. Eliza F. Allen Sept. 12 1864 Deceased
13. Emma Katherine Allen born May 4 - 1865
14. Nettie Allen Deceased 1866
(Family of William Allen and Barbara Chism. Not in
order of dates.)
[Page Five -- Letter In Bible]
This letter was in the Bible - dated March 10, 1968. My mother
wrote good letters. I wish I'd saved more of them.
P.S. Honey, do you know I never realized untill I wrote you about
all the birthdays in March that there were three in both families.
When I mentioned it to Dad, I asked him when Mother Hawkins
birthday was and he said that he didn't know; that she had never
told him. So I got out her old Bible, which is so big and so old,
it is falling apart. She was born Aug. 11-1858. Died April 26,
1928 the next year after we moved from Taylor and we were
just building the Courts.
The first entry in the Bible was Margaret Chism born Mar. 26 - 1791.
That was Mother Hawkins grand mother. Her mother was Barbara
Chism born March 3rd 1823. Her Father's name was William Allen -
born Feb. 5 - 1819. There were 14 children, all names and birth dates
in the Bible.
Mother Hawkins was the 10th child. And there were three births in
that family, just as in ours, in March. I found all this very interesting.
You added yours and Harolds names in it and Dad later added Laura's.
I wonder how old this old Bible is. Gert gave it to me sometime after
Mother Hawkins died. Someday it will be yours.
Love, Mother.
[Page Five -- Related Letter]
March 20, 1975
Dear Cousins,
Would you please help me gather some information about the descendants
of the Allen family of northern Kentucky and southern Indiana?
To introduce myself, I am the son of Craig T. Allen who visited you many
years ago when he was in Little Rock on business for Safeway Stores --
and I am the nephew of Thomas E Allen, now a resident of California,
who visited you with his wife Margie. It was Thomas who suggested that
I write to you. My records start with William A. Allen, born 1819, died 1902
and Barbara Ann Chism, born 1823, died 1902 who had 14 children.
Their 6th child, William Bethel Allen, was my grandfather. Their 10th child was
Jennie (or maybe Jane) who (I think) married a man by the name of Hawkins.
Would you please tell me anything you can about the descendants of Jennie
Allen (born 8/18/1858)?
Unfortunately, this interest in tracing the Allen family did not occur to me
while my father was alive as he would have been a great help.
Craig T. Allen Jr.
Morton Grove, Ill.
This seems to be the case too often [pointing to the part about not having
an interest while father was alive]. I later heard from Craig and not his son
Bill Allen when Laura and Geo. lived in Dallas. I still hear from Bill's wife
Mary. He is head of Coca Cola in Mexico & just built a big bottling plant
in Mex. City - supposed to be the biggest & most innovative [?] in the
world. Mary divides her time between Mex. and their home in Florida.
They have a son in Florida state.

---------------END TRANSCRIPT----------------