Hatch Bible
The Devotional Family Bible Containing the Old and New
Testaments, A.J. Holman, Philadelphia, 1897. This is one
of the first modern-looking Bibles, with a soft cover and not
meant as a permanent Bible for the generations. It is in
average condition, intact but with heavy wear to the covers.
The only Internet records I can find of this family's places
Albertha being born in Utah, and some of the sons dying in
New Mexico.
This Bible is currently in the possession of Tracy St. Claire
tracy@stclaire.org . This Bible was returned to descendants
Carol Hatch and family of Tuscon Arizona.
SURNAMES:
HATCH
NIELSON
BURNHAM
FISH
BRISBANE
YOUNG
SCHENIGER
--------------TRANSCRIPT BEGINS HERE---
[Page One -- Front Flyleaf]
Emer Lester & Ancil was baptized at Ramah August 25 1914 by
Richard Bloomfield
Emer was confirmed by Fred Lewis & Lester was confirmed by
Frehof G Nielsen
Ancil was confirmed by Richard Bloomfield on same day they
was baptized
Left Fruitland Tuesday April, 4, 1911.
[Page Two -- Marriage]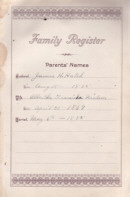 Husband, James H. Hatch
Born Aug 18 - 1865
Wife Albertha Fransiska Nielson
Born, April 30 -- 1869
Married May 6th -- 1885
[Page Three -- Marriages]
James Ira Hatch to Abigal Burnham
Sarah Rhoana Hatch to Wesley F. Fish Aug. 10th 1912
Starnes P. Hatch to Rachel Brisbine
Elzada Hatch to Earl B. Young Dec. 13th 1911
Emer J. Hatch to Imogene Scheniger Jan. 30th 1921
[Page Four -- Children's Names]
Sarah Rhoana Hatch Mar. 5 - 1886
James Ira Hatch Born July 27th 1888
Starnes Peter Hatch " Mar. 12th 1891
Hulda Agnes Elizabeth Hatch " Jan. 12th 1894
Elzada Hatch " March 14th 1895
Emer John Hatch " Dec. 10th 1897
Henry Lester Hatch " May 15th 1900
Ancil B. Hatch " Mar. 17th 1903
True Bradford Hatch " Feb. 27th 1908
Albertha Hatch " Sep. 17th 1911
[Page Five -- Deaths]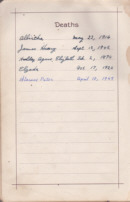 Albirtha May 23, 1916
James Henry Sept. 12, 1942
Hulda Agnes Elizabeth Feb. 2, 1894
Elzada Oct. 17, 1926
Starnes Peter April 10, 1949

-----------END TRANSCRIPT------------------