Harr Bible

This is not a Bible, but rather a German hymnal, if I
translated this correctly. It is very small, about 4" x 6",
and luckily for me the entries are all in English. It
must have been rebound somewhere along the way to
me, because there is some trim loss.

My best attempt at the title is Marburger Gefang Buch
bur Abung der Gottfeligfeit, Marburg und Frankfurt,
Rev. Heinrich Ludwig Kronner, 1796.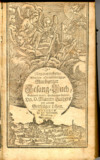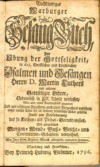 There are some hatch marks on the front flyleaf that may
indicate the number of times read.

Transcribed by and in the possession of Tracy St. Claire,
tracy@stclaire.org.

SURNAMES:
RUNCK
HARR


-----------------TRANSCRIPT STARTS-----------------

[Page One -- Front Flyleaf]



Mary
1802 January 20th

[Page Two -- Front Flyleaf]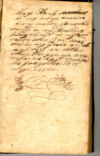 Mary Runck is my name
america is my nation
lancaster county is my dwelling place
christ is my salvation
when I'm dead and in my grave
and my bones are rotton
when this you see remember me
lest I should be forgotten
1818
May 20 1818

[Page Three -- Back Flyleaf]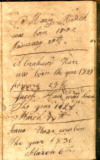 Mary Runck was born 1802 January 20th

Abraham Harr was born the year 1827 february 25th

Jacob Harr was born The year 1828 March 18th

Anna Harr was born The year 1830 March 6th

[Page Four -- Back Flyleaf]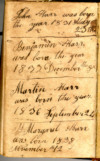 John Harr was born the year 1831 May 23rd

Benjamin Harr was born the year 1833 December the 5th

Martin Harr was born the year 1836 September 24

Margaret Harr was born 1838 November the 12

[Page Five -- Inside Back Cover]


Elias Harr was born the year 1845 July the 12th

---------------END TRANSCRIPT----------------