Hall Bible
The New Testament of our Lord and Saviour Jesus Christ,
Cooperstown, N.Y., H. & E. Phinney, 1841. Hills # 1100.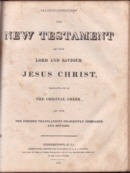 This Bible is in fair -good condition. Its binding is OK,
but is has been coated with brown paint? Maybe shellac?
The pages are in good order, but everything prior to the
first page of Genesis is missing. The New Testament title
page was used for the identification above.
There are braided hair locks in this Bible, and some other blonde
locks as well as a page from a Bible story.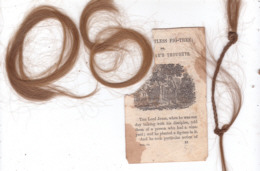 Transcribed by and in the possession of Tracy St. Claire,
tracy@stclaire.org.
SURNAMES:
HALL
VOORHEES
STRIKER
SCHAFER
KELLY

-----------------TRANSCRIPT STARTS-----------------
[Page One -- Inside Front Cover]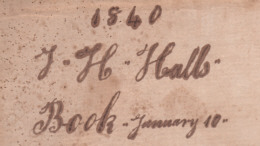 1840 J. H. Hall's Book Jan 10
[Page Two -- Marriages]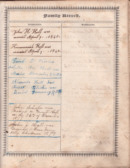 John H. Hall was married April 9 1840
Hannamariah Hall was married April 9 1840
Jacob D. Voorhees and Ellen Ann Hall was Maried
November the 30 1870
Alexandr Hall And Maggie Striker was Maried
January the 14 1873
John Schafer was Married to Mary L. Hall on the
26th of December 1877
John J. Hall was married to Anna Mary Kelly. Christmas
1878
[Page Three -- Births]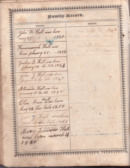 John H. Hall was born May 27 1810
Hannamariah Hall was born february 21 1818
Joahim Q. Hall was born february 12 the date 1843
John J Hall was born August 2 the date 1845
Allexander Hall was born January 15 the date 1848
Ellen Ann Hall was born May 12 the date 1850
John J. Hall was born June 13 the date 1852
Mary Lousae Hall was born March 4 1855
[Page Four -- Births]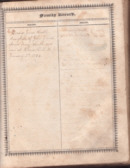 Bessie Jane Hall daughter of John J and Anna Mary
Hall was born at Clover Hill, N.J. January 23 1896.
[Page Five -- Deaths]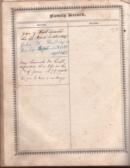 John J Hall departed this life April 10 A.D. 1847
John H. Hall departed this life September the 5 1876
age 66.3.7
Mrs. Hannah M. Hall departed this life on the 7th of June
1879 aged 61 yrs. 5 mos. & 14 days
---------------END TRANSCRIPT----------------