Graf Bible
The Holy Bible Containing the Old and New Testaments,
New York, American Bible Society, 1887. This Bible
was presented to the Brooklyn City Bible Society at
one time.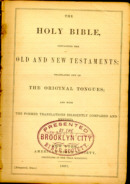 It is in poor condition. It is a cheaper personal-bible, meant
to be carried around. The cover is detached and part
of the spine is missing.
Transcribed by and in the possession of Tracy St. Claire,
tracy@stclaire.org.
SURNAMES:
GRAF
KETTING
BELL
-----------------TRANSCRIPT STARTS-----------------
[Page One -- EndPage]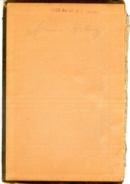 Louisa Ketting
South 3rd St. M.E. Church [stamped on]
[Page Two -- Marriages]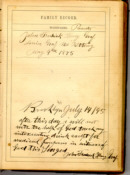 Parents
John Frederick Henry Graf
Louise Graf nee Ketting
May 4th 1875
Brooklyn July 14 /95
after this day i will not with the help of God touch
any intoxicating drink except for medical preparations
in witness of God this singed [sic] John Frederick Henry Graf
[Page Three -- Births]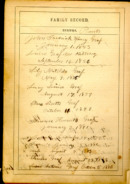 Parents
John Frederick Henry Graf
January 1, 1853
Louise Graf nee Ketting
September 16, 1856
~~~~~~~~~~
Lily Matilda Graf
May 9. 1876
Lucy Louise Graf
August 17. 1877
Clara Lisette Graf
October 11. 1879
Florence Henrieta Graf
January 2. 1881
X Female September 14. 1878
X Female January 9. 1882
X Male August 7. 1883
Charles Graf
August 29. 1885
Louis Antoine Graf
October 5. 1886
[Page Four -- Births]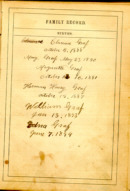 Clarence Graf
October 5, 1888
Mary Graf
May 23 1890
Magurette Graf
October 16. 1891
Herman Henry Graf
October 15. 1887
William Graf
Jan 13. 1893
Edna Graf
June 7. 1894
[Page Five -- Deaths]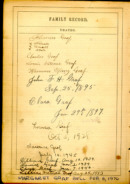 Florence Graf
X Female
X Female
X Male
Charles Graf
Louis Antoine Graf
Herman Henry Graf
John F. H. Graf
Sep. 25. 1895.
Clara Graf
Jan. 29th 1897.
Louisa Graf
Oct. 5, 1928
Clarence Graf
July 10, 1945
William Graf, August 10. 1939.
Louise Graf Nov. 2 1939.
Edna Graf Jan. 7. 1946.
Lillian Matilda Graf Aug 25. 1953
Margaret Graf Bell Feb. 8, 1976
---------------END TRANSCRIPT----------------